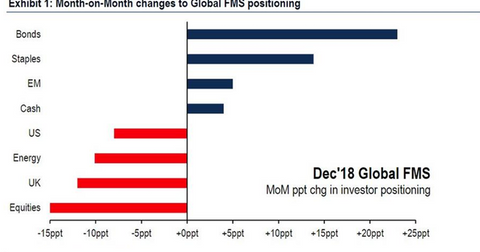 The Story behind Bank of America's Bullish Gold Outlook
By Anuradha Garg

Updated
Bank of America: Overweight gold
Bank of America Merrill Lynch (BAML) is overweight on precious metals going into 2019. In its preview for 2019, BAML strategist Michael Widmer and his team noted that the market is close to extremely bearish on the metal. BAML uses four variables to forecast gold prices (GLD)(JNUG): the US dollar (UUP), US real interest rates (TLT), cross-asset volatility (VIX), and oil prices (USO).
Article continues below advertisement
Factors supporting gold
The team notes that in 2018, a strong US dollar, higher real interest rates, and positive US economic growth worked together to gold's detriment, but these factors are about to reverse their trend. BAML feels that in 2019, attention will shift from US growth (IVV) to US twin deficits.
The bank also sees a reversing trend in the US dollar's strength, US interest rates (AGG), and spiking volatility (VXX) as the major factors driving gold prices higher in 2019. They even see gold prices surging to $1,400 per ounce next year if the Fed blinks on its tightening policy.
US dollar strength waning?
We also highlighted in Why the US dollar Could Be Bullish for Gold in 2019? how the US dollar's strength could wane. For one, the US dollar has gained on the divergence in monetary policies between the United States (SPY) and the rest of the world. Lately, the Fed's tone has been dovish. Market participants also anticipate just one more rate hike in 2019, compared to three previously. Moreover, many market participants now believe emerging markets' (EEM) weakness is coming to an end, which could also weigh down the US dollar's relative strength.
BAML also sees a possible shift in China's monetary policy easing as one of the major factors driving gold in 2019.