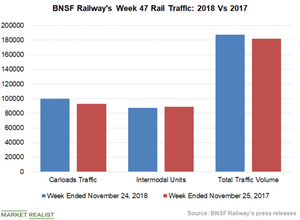 BNSF Railway Reported Strong Carload Traffic Growth
By Anirudha Bhagat

Dec. 4 2018, Updated 7:31 a.m. ET
Rail traffic volume
Berkshire Hathaway-owned BNSF Railway (BRK.B) reported a 3.1% YoY increase in its rail traffic volume in week 47 due to strong carload traffic growth, which more than offset the weakness in intermodal units. The company reported rail traffic volumes of 187,426—compared to 181,826 units in the same week last year.
In the first 47 weeks of 2018, BNSF Railway's overall rail traffic volumes grew 4.2% YoY. The company's traffic gains were higher than 3.7% YoY growth reported by US railroad companies (IYJ) during the same period.
Article continues below advertisement
Strong growth in carload traffic
BNSF National Railway reported a 7.3% YoY rise in its carload traffic in week 47. The railroad company moved 99,868 railcars, except for intermodal units, in week 47—compared to 93,083 units in week 47 of 2017. The company recorded the second-highest carload traffic growth among Class I railroad companies.
Canadian National Railway (CNI) posted the highest YoY gain of 8.1% in week 47. Canadian Pacific Railway (CP) and Kansas City Southern (KSU) were third and fourth with increases of 5.1% and 4.7%, respectively.
BNSF Railway's carload commodity groups, excluding coal and coke, accounted for 60% of its total carload traffic in week 47. Commodity groups, excluding coal and coke, reported 7.7% YoY carload growth to 59,975 railcars—compared to 55,691 railcars in week 47 of 2017. Coal and coke traffic, which accounted for 40% of the company's total carloads, grew 5.9% YoY in week 47 to 39,593 units from 37,393 units.
The commodity groups that reported notable volume growth in week 47 included grain, chemicals, food, metals, pulp and paper, petroleum, iron and steel scrap, and non-metallic minerals. The commodity groups that recorded a YoY decline in the volumes in week 46 included motor vehicles, metallic ores, sand, stone, clay and glass, and forest products.