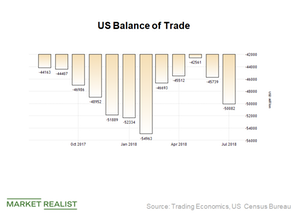 The US Trade Deficit Is Up despite Trump's 'America First' Policy
By Anuradha Garg

Updated
Trade balance
The balance of trade is the difference between a country's monetary value of exports and imports. A positive balance is known as a trade surplus—exports are greater than imports. A negative balance is known as a trade deficit.
The relative value of the US Dollar Index against other currencies is impacted by the change in the balance of trade. A trade deficit causes demand for more foreign currency, and the US dollar outflows increase. Over a long period, this leads to the devaluation of the US dollar.
Article continues below advertisement
US deficits rise
In July, the United States' (SPY)(IVV) trade deficit rose to a five-month high and at its fastest rate since 2015. According to the US Department of Commerce, the deficit rose 9.5% to $50.1 billion. While imports hit a record high, exports didn't keep pace. In particular, soybean and civilian aircraft exports suffered. In view of the upcoming tariffs, exporters most likely advanced their soybean exports, which led to a decline later on.
Also, the deficit with China hit a record high. This occurred despite President Trump's his "America First" policy, under which tariffs are levied on some foreign products. This has led to trade dispute escalations with the European Union, Mexico, Canada, and China. Investors are concerned that a rising trade deficit could further embolden Trump to ramp up tariffs on the country's trade partners, especially China.
Deficits and gold outlook
The trade balance and gold don't have a linear relationship. There may be other, stronger variables affecting gold prices, such as the strength of the US dollar. An expanding trade deficit leads to more pressure on the dollar (UUP). A constantly expanding trade deficit is positive in the long term for gold prices and funds such as the SPDR Gold Shares ETF (GLD).
However, in the short term, rising deficits could encourage Trump to get more aggressive on tariffs, which could strengthen the US dollar as safe-haven bids for the currency rise. This, in turn, would be negative for gold.