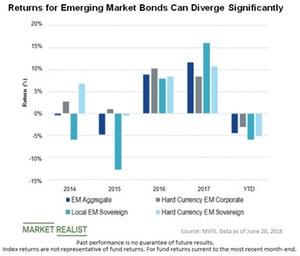 Hard Currency Debt Allocation: Better Choice in Volatile Market?
By VanEck

Aug. 6 2018, Updated 1:00 p.m. ET
VanEck
Although an all hard currency allocation can mean avoiding local exposure altogether, hard currency sovereign debt has performed similarly to local sovereign bonds year-to-date. Allocating to the entire investable opportunity set means approximately 64% exposure to hard currency and 36% exposure to local currency bonds. This diversification may potentially help reduce the volatility and drawdowns associated with local currencies while offering exposure to their higher potential yields, lower historical correlation to the interest rates of developed markets, and the potential to benefit from currency appreciation. Further, the performance of emerging markets corporate bonds and sovereign bonds can vary greatly in a given year, in part due to a diverse geographic makeup and a broad sector mix that can respond differently to various macroeconomic environments.
Article continues below advertisement
Based on index data over the past several years, an aggregated approach to investing in emerging markets has generated significantly lower volatility compared to a local currency exposure, which saw significant drawdowns in 2014 and 2015. On the other hand, the aggregated approach benefitted from its local currency allocation in 2017, outperforming both hard currency emerging markets sovereign and corporate bonds. Year-to-date, the aggregate index has benefitted from an approximately 42% exposure to corporate bonds, which have outperformed hard currency sovereign bonds, albeit with moderately negative returns.1
Market Realist
The emerging market sell-off this year
The emerging markets fixed income space (EMB) performed well last year. However, things took a sharp turn after the stock market sell-off in the United States in February. Volatility (VIX) was at its peak during that period with fears of higher inflation in the United States. The US equity markets sell-off also dragged down the global markets.
Usually, you would expect investors to turn toward the fixed income space when volatility in the stock market (SPY) increases. However, prospects of rising global inflation induced fears of rising yields in the United States, and trade war tensions took a toll on the emerging fixed income market as well. It led to an unimpressive performance this year.
Local currency debt
In the emerging market debt space, local currency debt has always been a favorite since it provides higher positive yields. That helps curb inflation risk along with the added benefit of currency appreciation. Hard currency has also been gaining popularity. It performed well in the last two years, as you can see in the above chart.
A diversified allocation to both hard currency and local currency could prove to be beneficial. By investing in a mix of hard and local currency debt, investors can safeguard their portfolios against currency risk by investing in local currency debt while enjoying its higher yields.