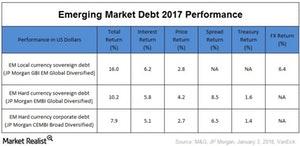 Aggregated Approach to Emerging Markets: Can It Ease Volatility?
By VanEck

Aug. 6 2018, Updated 2:30 p.m. ET
VanEck
The benefits of an emerging markets aggregate bond exposure may explain the increasing flows into these strategies. According to J.P. Morgan, strategies which blend corporate and sovereign exposure took in approximately $35 billion in 2017, a similar level to sovereign focused emerging markets strategies. Longer term, flows have gradually increased and cumulatively have taken in the same amount as local currency strategies since late 2009.2
Article continues below advertisement
We believe that a passive blended strategy warrants attention, given the index's track record relative to actively managed peers, as well as the low cost and transparent nature of index-based strategies. Although diversification and tradability are fundamental to virtually any passive strategy, we believe these elements should be given particular emphasis when investing in emerging markets debt due to the potential concentration risk of many active strategies and the importance of maintaining liquidity and low transaction costs, particularly in stressed market environments.
Market Realist
A blended approach to emerging debt market
As we saw in the previous part of this series, after the spike in volatility and an emerging market sell-off, a wise option might be to invest in a blended approach in emerging market debt. That could help investors gain diversification benefits and optimal returns.
The JP Morgan Emerging Market Aggregate Bond Fund is a fund that's suitable for investors looking to invest in all segments of the emerging debt market-sovereign, corporate, and local currency debt.
While local currency has better advantages to hard currency corporate and sovereign, a blended approach could provide optimal returns. All three asset classes enjoyed good returns last year, as you can see in the chart above.
Article continues below advertisement
This year, emerging debt performance tumbled due to various factors, among which a sell-off in currencies played a vital role. A June report by BNP Paribas Asset Management mentioned that European and global emerging market economic growth took a toll on the euro. China's yuan also suffered, while trade war tensions and higher crude oil prices affected other emerging market currencies, as you can see in the chart below.
Volatility and outflows
Although volatility (VIX) caused some outflows in the first half of 2018, there's still hope that emerging market growth could bounce back in the second half of 2018. In an article by BNP Paribas Asset Management in July, Jean-Charles Sambor, deputy head of emerging markets fixed income, said he believes the sell-off in emerging markets this year is a healthy correction that made valuations in emerging local (EMLC) and hard currency debt more attractive. He believes that even though volatility will remain high in the second half, it will present new opportunities in emerging markets.
Emerging debt markets (PCY) could still bounce back in 2018 since volatility is contained. Even though the performance couldn't match 2017, the markets could provide better yields than their developed counterparts. Therefore, it's advisable to weigh all the risks and rewards and decide on an appropriate diversification strategy to consider an allocation in the emerging debt market space (EMB).