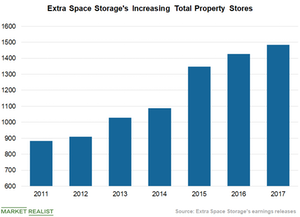 Acquisitions, Joint Ventures Expand Extra Space's Footprint
By Anirudha Bhagat

Aug. 9 2018, Updated 7:33 a.m. ET
Expanding geographical presence
Acquisitions have helped Extra Space Storage (EXR) expand its domestic footprint. It has acquired properties worth $4.5 billion in the last five years. The approach has helped it grow its total owned or operated store count from 882 in 2011 to 1,483 at the end of 2017. Buyouts have also facilitated its elevated scale in several core markets and fortified its presence in several new markets.
During the first half of 2018, Extra Space paid $378.3 million in wholly owned acquisitions and invested $65.1 million in joint ventures, bringing its total investments to $443.4 million. In its second-quarter earnings conference call, it said it will continue investing in acquired properties and joint ventures.
For 2018, Extra Space projects a total investment of $594.2 million. These acquisition activities not only help generate value streams but also increase the global footprint and create a pipeline for the future.
Article continues below advertisement
Portfolio strengths
In the first half of 2018, Extra Space acquired six operating stores and one certificate of occupancy store. It bought a joint venture partner interest in 15 stores and added 83 properties to its third-party management platform. These investment activities bring the company's total property count to 1,568 and 119 million square feet of rentable space as of June 30.
Of its 1,568 properties, 868 are wholly owned, 214 are joint ventures, and 486 are managed for others. That means Extra Space holds ~14% of its total properties in joint ventures and 31% are managed for third parties. These joint ventures and partnerships open various sources of income such as fees and help create an acquisition pipeline. The company anticipates acquiring another 150 properties in the second half of 2018.
Extra Space's acquisitions and joint venture strategies have helped it expand its footprint in large population centers and attain geographical diversification. The company currently operates in 39 US states, which helps it mitigate the cyclical nature of the self-storage industry.
Extra Space's biggest competitor, Public Storage (PSA), ended Q2 2018 with 2,402 self-storage facilities in 38 US states. Two of its smaller peers, CubeSmart (CUBE) and Life Storage (LSI), had 486 and 700 self-storage facilities, respectively, as of June 30.
Extra Space makes up ~4.6% of the Invesco DWA Financial Momentum ETF (PFI).