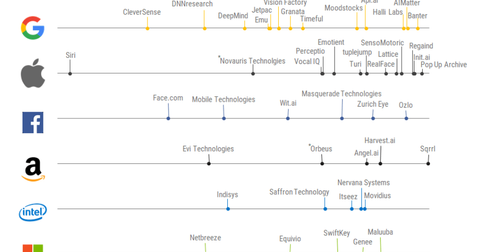 Is Microsoft Aiming to Outdo Google in the AI Space?
By Anne Shields

Updated
Google's offerings enhanced with AI technology
Earlier, we discussed how technology companies are enhancing their offerings with AI technology. Last month, at its annual I/O conference, Google (GOOG) announced new updates and features to the following platforms:
Google Photos: a suggested Actions feature driven by AI technology that offers features such as Fix, Colorize, Brighten Fix, or Share Photos, depending on what Google Photos recognizes
Gmail: a Smart Compose feature that can automatically complete users' sentences
Google Maps: a Street View feature that helps the user navigate around town
Google also launched ML (machine learning) Kit, a software-development kit for app developers, on Apple's (AAPL) iOS and Android.
One of the earliest AI players, Google has made the most acquisitions in the space
The above timeline by CBInsights shows the mergers and acquisitions of those companies that have bought four or more startups or companies since 2010. Among its peers, Google has emerged as the top acquirer of AI startups, with 14 buyouts under its belt.
Apple was one of the earliest companies to venture into the AI space. It popularized AI assistants through its acquisition of Siri in 2010. With its acquisition of Api.ai in 2016, Google strengthened its capabilities in natural language processing and enhanced Google Assistant's capabilities. With its acquisition of DNNresearch in 2013, Google made major upgrades to its image search feature.
Through Amazon's acquisition of Evi Technologies in 2013, the company's Alexa feature came into existence.