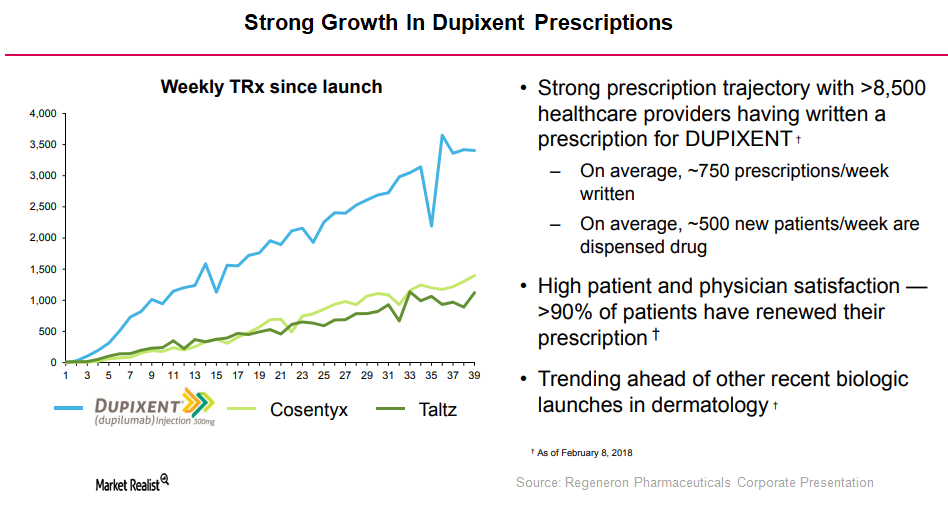 An Insight into Regeneron's Dupixent
By Kenneth Smith

Apr. 12 2018, Updated 1:20 p.m. ET
Dupixent
Regeneron Pharmaceuticals (REGN) is a fully integrated biotechnology company. Its drug Dupixent is designed for the treatment of adults with moderate to severe atopic dermatitis, and it received approval in the United States in March 2017 and in the Europen Union in September 2017.
Dupixent is a fully human monoclonal antibody generated using Regeneron's velocimmune technology.
Regeneron is collaborating with Sanofi for the global development and commercialization of Dupixent. Sanofi records product sales for Dupixent, and both companies share the profits and losses from the drug's sales.
Article continues below advertisement
Atopic dermatitis
In 1Q17, Regeneron initiated a Phase 3 study in adolescent patients with moderate to severe atopic dermatitis, and in 4Q17, the company initiated a Phase 3 study in pediatric patients with severe atopic dermatitis. Regeneron also initiated Phase 2 and 3 studies in younger patients with severe atopic dermatitis in 1Q18.
In 2017, the company reported positive results from two additional pivotal Phase 3 studies of the drug for treating asthma, and it recently submitted a supplemental biologics license application (or sBLA) to the FDA. Regeneron also reported positive results from its Phase 2 study of Dupixent for the treatment of eosinophilic esophagitis.
Following its launch in March 2017, Dupixent generated total sales of $256.5 million in 2017.
Competition
Dupixent faces a tough competitive environment. Competing products on the market include Eucrisa by Pfizer, Xolair by Roche, Nucala by GlaxoSmithKline, Cinqair by Teva, and Fasenra by AstraZeneca. Nucala is also in the Phase 2 stage for the treatment of atopic dermatitis.
Competing products in development include tralokinumab by AstraZeneca, barictinib by Eli Lilly and Company, upadactinib by AbbVie, ANB-020 by AnaptysBio, and lebrikizumab by Dermira.
What to expect in 2018
In 2018, Regeneron expects to seek additional regulatory approvals for the drug's treatment of atopic dermatitis outside the United States, report data from its Phase 3 study on adolescent patients, and initiate its Phase 3 program for the treatment of eosinophilic esophagitis and chronic obstructive pulmonary disease.
In the next part of the series, we'll take a look at another promising drug from Regeneron, Praluent.