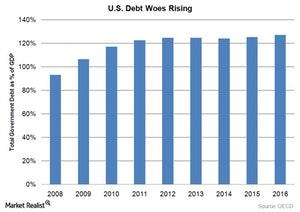 Will Tax Reform Add to US Debt Concerns?
By VanEck

Nov. 20 2020, Updated 4:52 p.m. ET
VanEck
Tax reform will add an estimated $1.5 trillion to the deficit over ten years, according to the Joint Committee on Taxation (JCT). In October, the U.S. Treasury Department reported the budget shortfall increased 14% in 2017 to $666 billion, which is equal to 3.3% of GDP. At $16 trillion, public federal debt is 85% of GDP and Harvard University economist Jason Furman estimates debt escalating to 98% of GDP by 2028. The CBO figures interest charges will consume 15% of federal revenues in 2027, up from 8% currently. The annual report from the trustees of the nation's largest entitlement programs shows the trust funds running out for Medicare in 2029 and for Social Security in 2034. The new tax law only piles more onto this growing mountain of debt.
Article continues below advertisement
Total non-financial debt in the U.S. stands at $47 trillion, equal to 250% of GDP and $14 trillion more than at the peak of the last credit bubble when debt/GDP stood at 225%. Thanks to below market rates engineered by central banks, debt service has not yet become a problem. Low rates have forced investors to take on more risk in order to generate acceptable returns. Another side effect is the proliferation of European "zombie companies", meaning their interest cost exceeds earnings and kept on life support by banks fearful of losses if the companies declare bankruptcy. The Bank for International Settlements (BIS) estimates that 10% of publicly traded companies in six major European countries are zombies. As central banks embark on tighter policies, at some point higher rates could create debt service problems. Gluskin Sheff[1. Gluskin Sheff + Associates Inc., a Canadian independent wealth management firm, manages investment portfolios for high net worth investors, including entrepreneurs, professionals, family trusts, private charitable foundations, and estates] reckons every percentage point rise in the level of rates will ultimately drain 2.5% out of nominal GDP growth.
Market Realist
Is tax reform adding to US debt concerns?
The main factor that caps economic growth and inflation for a country is the amount of debt the country carries. Debt, if used in the right way, can boost economic growth—but it can also damage the economy. The chart below shows the government debt-to-GDP ratio for the United States, which is its total gross government debt as a percentage of its GDP (or gross domestic product). This ratio is a good indicator to assess economic health.
Article continues below advertisement
Tax reform plans should be backed up with new revenue projects or reduced government spending. However, President Donald Trump's tax reform bill has no such plan of action. The Congressional Budget Office predicts that tax cuts will probably add $1.5 trillion to the country's debt over the next ten years. While many economists supported the tax reform bill, many others are concerned that tax reform proposals will add to debt concerns, threatening the economy (SPY)(SPX-Index)(VWO).
Kimberly Foss, founder and president of Empyrion Wealth Management, said in an interview with Fox Business that she believes tax reform will fuel a stock market rally. Meanwhile, Chris Edwards, director of tax policy studies at the Cato Institute and editor of www.downsizinggovernment.org, told Fox Business that, to sustain the economic growth led by tax reform, Congress and President Trump would need to monitor federal debt, which could dampen economic growth.
Tax reform and gold performance
Reducing the tax rate could help boost corporate earnings, leading to economic growth, which could strengthen the dollar. A strengthening dollar has an adverse effect on precious metals like gold, so it could weigh on gold prices (GLD) (GDX) and gold mining stocks like Kinross Gold (KGC), Coeur Mining (CDE) and Alacer Gold (ASR).
In the next two parts of this series, we'll discuss what could support gold in 2018.