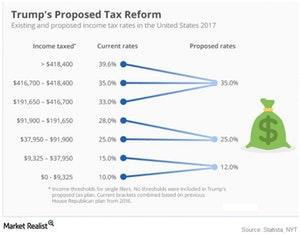 Is Tax Reform Really Good for the US Economy?
By VanEck

Jan. 29 2018, Updated 5:25 p.m. ET
VanEck
Tax Reform adds to deficit, increases systemic risk
Anyone hoping that Washington D.C. would become fiscally responsible under Republican Party rule has seen their hopes go up in flames, as new tax rules appear likely to drive the U.S. deeper into debt. Some say economic growth created by tax cuts will likely generate more government revenue. In a recent Wall Street Journal article, ex-Congressional Budget Office (CBO) director Douglas Holtz-Eakin stated that he believes tax policy can partially offset costs if it is well designed. We believe the new tax code is not well designed, as it is nearly as complicated as the old one, widely unpopular, and contains many provisions set to expire in 2025. The tax windfall corporations will receive comes at a time when profits are high and cheap credit is plentiful.
Article continues below advertisement
 If companies were inclined to spend more on capital expansions, they would have done so already, but instead, many companies have used cash to buy back stock and pay dividends. We believe it is too late in the cycle for tax stimulus to have a lasting effect. Also, fiscal stimulus has limited effects when debt levels are high, as they are today. None of the federal income tax cuts since 1980 have succeeded in shrinking the deficit through growth. The Reagan tax cuts of 1981 could not forestall a recession that started in July of that year, caused by tighter Fed policy. Similarly, any growth resulting from Trump's tax cuts could give the Fed more latitude to raise rates.
Market Realist
Tax reform
The Senate passed President Donald Trump's long-awaited tax reform bill in December. This tax reform makes substantial changes to tax rates for both corporates and individuals. Many market participants believe the tax reform bill could shake up the US corporate sector. Various economists supported this tax reform bill in an open letter, suggesting it will lead to a strengthening economy with higher employment and wages. They felt that higher corporate tax rates have resulted in US companies (SPY)(SPX-Index)(IVV) moving jobs abroad, meaning weak economic growth back home. A reduction in the corporate tax rate could help businesses reinvest capital in the domestic economy. The White House projects that tax reform, once fully implemented, will contribute 4% to economic growth.
Fed Chair Janet Yellen also believes reducing corporate and individual tax rates will contribute to US GDP (or gross domestic product). Factoring in the growth of the labor market, the Fed hiked the interest rate by a quarter point to a range of 1.25%–1.5%. The Federal Reserve, at its December meeting, increased the estimate for 2018 GDP from 2.1% to 2.5%.
On the downside, a Business Insider report stated that various independent analyses conclude that tax reform will add around $448 billion to over $1 trillion to the deficit over ten years. As per the report, Goldman Sachs also supported the bill, saying it would add 0.3 percentage points to US GDP growth in 2018 and 2019. However, the firm also believes the increased GDP could fade after 2020, becoming a drag on the US economy.
Moving on, let's see how tax reform could add to US debt concerns and what the effect could have on precious metals like gold (GLD)(GDX).