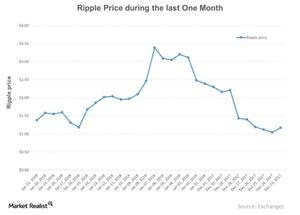 South Korea to Implement New Cryptocurrency Regulations
By Meera Shawn

Updated
Ripple's price rout
Ripple struggled on Monday and couldn't manage to post significant gains. However, on Tuesday, January 23, 2018, ripple saw a loss of almost 9.5% over the past 24 hours and was trading at $1.26 as of 6:30 AM EST. Ripple has staggered a whopping 67% from its peak of approximately $3.8 at the very start of 2018. The market capitalization of ripple has also deteriorated to about $48 billion as compared to the $100 billion during the beginning of 2018 when prices peaked.
Article continues below advertisement
Investors likely got wary of the decline in the cryptocurrency market (ARKW), which has undoubtedly added to the overall perception of the volatility of cryptocurrencies in general. Plus, the US government shutdown further could have added to the uncertainty of the digital currencies. As the closure comes to an end, cryptocurrencies could experience upward movement. However, the stock market and government yield maintained an uptrend even during the shutdown.
Ongoing South Korean concerns
To curb ongoing concerns about South Korea (EWY) (FLKR) with regards to cryptocurrencies, the government has planned to unveil the real names of the investors or traders in cryptocurrency transactions in order to increase transparency. This new regulation will be implemented beginning on January 30, 2018. South Korea is also considering strengthening its KYC (or Know Your Clients) norms.
North Korea has also shown a substantial interest in bitcoin and other cryptocurrencies. News has surfaced that North Korean hackers took funds from South Korean cryptocurrency exchanges. The US-based Recorded Future, a cybersecurity firm, linked North Korean hacking group Lazarus to the various attacks on South Korean exchanges and the other security breaches.