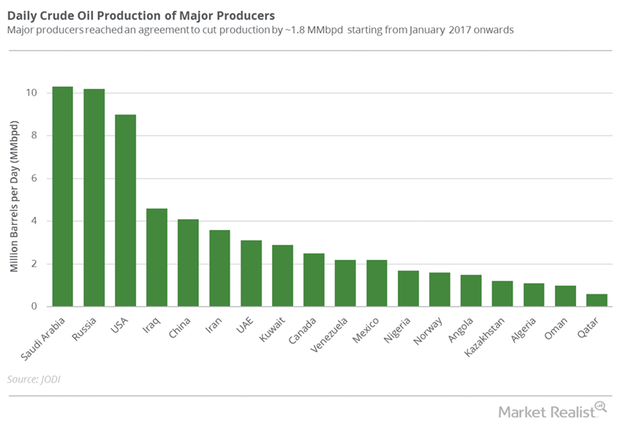 OPEC Could Extend Crude Oil Production Cuts beyond 2018
Crude oil futures 
Article continues below advertisement
Ongoing production cuts
On November 30, 2016, OPEC agreed to cut oil production by 1.2 MMbpd (million barrels per day) to ~32.5 MMbpd from January 2017 to June 2017. Likewise, non-OPEC producers agreed to reduce oil production by 0.6 MMbpd during the same period. As a result, US and Brent (BNO) (SCO) crude oil prices rose more than 8% on November 30, 2016.
On May 25, 2017, OPEC and non-OPEC producers agreed to cut production by 1.8 MMbpd from July 2017 to March 2018. On November 30, 2017, OPEC and Russia prolonged the production cuts until December 2018. Crude oil (UWT) (DWT) prices have risen more than 50% since June 2017 partly due to production cuts. Brent and the US crude oil are near a three-year high. Higher oil (DBO) prices favor energy companies (XLE) (XOP) like Chevron (CVX), Shell (RDS.A), ExxonMobil (XOM), and BP (BP).
Expectations
OPEC had 128% compliance with the production cuts in December 2017. Similarly, Russia followed the production cut quotas in 2017. On January 21, 2018, Saudi Arabia signaled the extension of production cuts into 2019. Similarly, Russia said that it could also support production cuts in 2019.
Higher compliance with production cuts in 2018 and any extension of production cuts into 2019 could drive crude oil prices higher in 2018.
Article continues below advertisement
Wall Street's performance  
The Dow Jones Industrial Average Index (DIA) and the S&P 500 (SPY) fell 0.67% on January 29, 2018. The NASDAQ (QQQ) fell 0.5% on the same day. All three of the indexes closed at a record level on January 26, 2018. So far, Wall Street has been driven by strong 4Q17 earnings results in 2018.
Series overview 
In this series, we'll discuss important drivers for crude oil prices in 2018.