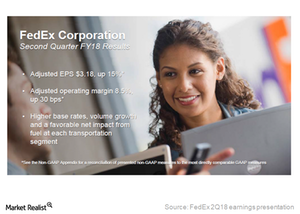 US Tax Reforms: An Opportunity for FedEx?
By Samuel Prince

Dec. 26 2017, Updated 7:31 a.m. ET
US tax reforms
On Wednesday, December 20, 2017, the US Congress passed the tax reform bill. The Senate voted on the bill in the early morning hours with a 51–48 vote. The House of Representatives then got the bill for the second time. There were some technical obstacles in the first version the House had already passed. The House approved the revised bill on Wednesday with a vote of 224–201.
Article continues below advertisement
Impact on transportation sector
The tax reform bill consists of permanent tax breaks for US corporations, lowering the corporate tax rate from 35% to 21%. The bill, which now just needs to be signed by President Trump, should create huge gains for transportation stocks and give a boost to their cash flows.
The Dow Jones Transportation Average (or DJTA) is a price-weighted average of 20 US transportation (XTN) and logistics companies. DJTA rose 3% and 10.5% in the last trading session and the last month, respectively, riding on possible tax reforms.
US transportation (JBHT) companies operate in a highly capital-intensive environment. With the new tax reform bill, transportation and logistics (CHRW) companies will be able to deduct capex (capital expenditure) from their taxable income in the year in which the capex was incurred. That should result in lower tax expenses for these companies. The most visible outcome could be significant job growth in the sector. Parcel delivery giants FedEx, United Parcel Service (UPS), and DHL Express could hire more employees.
FedEx's views on US tax reforms
In FedEx's (FDX) fiscal 2Q18 earnings call, executive vice president and CFO (chief financial officer) Alan Graf stated, "If tax reform is enacted, we expect our uses of cash from tax savings would include, optimizing CapEx to capture the benefits of 100% expensing to further grow the business and create even more upward mobility for our team members. Funding our pension plans beyond our current forecast. Increasing the dividend as our board may approve. Continuing our stock repurchase program at our current modest levels, and investing in M&A where it makes sense."
FedEx's capex prediction for fiscal 2018 is $5.9 billion. The company indicated that capex would rise if the US tax reform bill is implemented. The statement came on December 19, 2017, before Congress passed the tax reform bill.