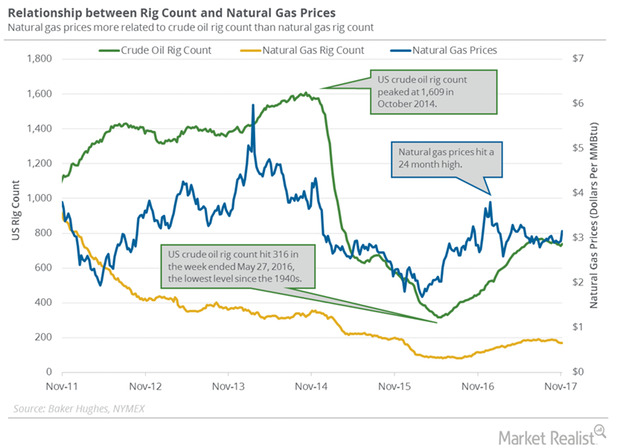 Higher Crude Oil Prices Pressure US Natural Gas Futures
US natural gas rigs  
Baker Hughes, a GE company, released its weekly natural gas rig count report on November 22, 2017. It reported that gas rigs fell by one to 176 on November 17–24, 2017. However, gas rigs were near a six-week high. They have risen by seven rigs or 4% in the last four weeks. The rigs rose due to higher oil (USO) (UCO) and natural gas (DGAZ) (BOIL) prices in the past few weeks.
Article continues below advertisement
Monthly international rig count
Bakers Hughes estimates that international crude oil and gas rigs rose by 20 or 2% to 951 in October 2017—compared to September 2017. Crude oil and natural gas rigs have risen 3.4% from the same period in 2016. The international natural gas rig count rose by two rigs or 1% month-over-month but fell by two rigs or 1% from the same period in 2016.
Crude oil prices impact on rigs and gas prices 
US gas rigs are at the highest level since October 20, 2017. Meanwhile, crude oil (USL) (DBO) prices are at a 30-month high. Natural gas is mostly a by-product of crude oil. Higher oil prices would increase US oil and gas rigs and supplies. Any rise in natural gas supplies would weigh on natural gas prices.
Next, we'll focus on US natural gas supply and demand.