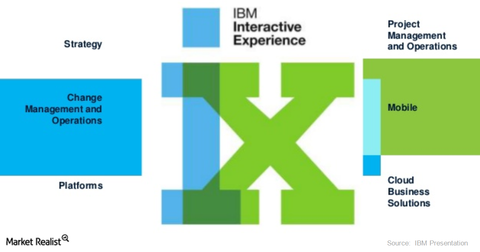 Why IBM Acquired Australia's Vivant Digital Business
By Anne Shields

Updated
Vivant is the latest addition to IBM's acquisition portfolio
Earlier in this series, we discussed IBM's (IBM) leadership position in blockchain technology and its recent partnership with banks over the blockchain trade finance system.
Let's look into its recent acquisition of Vivant Digital. On October 4, 2017, IBM announced the acquisition of Vivant Digital, an Australia-based (EWA) digital and innovation agency. Vivant Digital's acquisition is expected to close in late 2017, subject to regulatory review and other applicable conditions. Financial details of the acquisition were not disclosed.
Article continues below advertisement
Enhancement to IBM's business strategy
Through the convergence of technology, strategy, and creativity, IBM iX enables its clients to reinvent their businesses digitally. Vivant Digital's robust track record in the financial services and distribution industries, as well as its approach to design, could help IBM's clients develop a sound business strategy. Vivant Digital's design approach incorporates data, behavioral science, and technology.
According to Paul Papas, IBM iX global leader, "Customer experience is a critical element as our clients develop their business strategy." 
Explaining how Vivant would complement its existing strategy, Papas noted, "IBM shares a similar design, consulting and management philosophy with Vivant and our combined teams will raise the bar for experience-led, design driven, digital reinvention."
Anthony Farah, Vivant's founder and CEO, will serve as Digital Strategy and iX Leader for IBM Australia and New Zealand. 
Farah commented on Vivant's acquisition by IBM, saying, "This is an exciting direction for Vivant clients and employees. We now have scale and greater opportunity to address the growing needs of CEOs and innovation leaders willing to disrupt the market by seeking out new business models."
Farah added, "We see it as converging the best of big with the best of small."