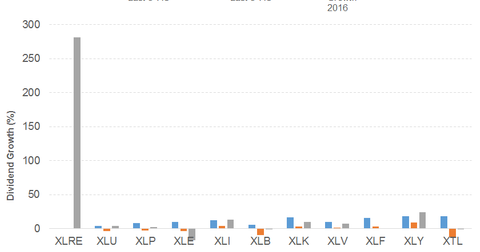 Analyzing the Dividend Yields of the Cyclical and Defensive Sectors
By Amanda Lawrence

Updated
Defensive sectors
The S&P 500 (SPY) defensive sectors, namely real estate (VNQ), utilities (XLU), consumer staples (XLP), energy (XLE), health care (XLV), and telecommunications (XTL), tend to offer an attractive yield to investors during low-interest environments or when the economy is slowing down. On the other hand, S&P 500 cyclical sectors like financials (XLF), industrials (XLI), technology (XLK), consumer discretionary (XLY), and materials (XLB) tend to perform well during periods of economic upswing. Their performance is triggered by higher interest rates and consumer spending. We can clearly see from the chart below the dividend yield of the sectors. Utilities led followed by consumer staples, real estate, and energy.
Article continues below advertisement
Real estate dividends have recorded an annualized growth of 27% in 2016. The sector reaped the advantages of the low-interest-rate environment, while consumer discretionary and financials lagged behind. Consumer staples, utilities, and health care recorded dividend growth between 3%–7% in 2016. The dividend trajectory for energy recorded the highest decline of 17% among the 11 sectors, followed by a 1% dip in telecom.
The defensive sectors except for health care have posted a fall in their three-year annualized dividends as evident from the chart above.
Cyclical sectors
Among the cyclical sectors, consumer discretionary has beaten the rest with the highest dividend growth in 2016. Industrials and technology were the next best sectors during the same period. Materials is the only sector to have recorded a decline. Financials just managed to finish off in the positive territory in 2016.
The SuperDividend REIT ETF (SRET) with a year-to-date (or YTD) return of 11.2% offers an annual dividend yield of 6.2%. It's valued at a PE ratio of 10.4x. The Vanguard High Dividend Yield ETF (VYM) and the iShares Select Dividend ETF (DVY) have generated YTD returns between 6%–7%. Both offer an annual dividend yield of ~3% at a PE ratio ranging between 21x–22x. 
The iShares Select Dividend ETF ( DVY) has substantial exposure to utilities, and its top holdings include Lockheed Martin (LMT), CME Group (CME), Philip Morris International (PM), and McDonald's (MCD). The Vanguard High Dividend Yield ETF (VYM) has relatively higher exposure in technology than the former, and top holdings include Microsoft (MSFT), Johnson & Johnson (JNJ), ExxonMobil (XOM), and JPMorgan Chase (JPM). Both the ETFs have exposure to Chevron (CVX).