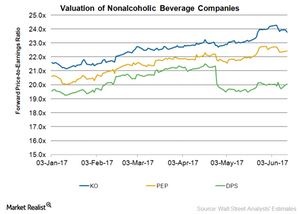 Where Coca-Cola and PepsiCo's Valuation Stand Now?
12-month forward PE
As of June 13, Coca-Cola (KO), PepsiCo (PEP), and Dr Pepper Snapple (DPS) were trading at 12-month forward PE (price-to-earnings) ratios of 23.8x, 22.4x, and 20.0x, respectively. The 12-month forward PE differs among peers based on several factors, including growth expectations, risk-return profiles, business models, and leverage.
As of June 13, the valuation of Coca-Cola and its peers was higher than the S&P 500 Index, which was trading at a 12-month forward PE of 19.1x. The S&P 500 Consumer Staples Index (XLP) was trading at a 12-month forward PE of 21.8x as of June 13.
Article continues below advertisement
Growth expectations
Currently, analysts expect Coca-Cola's revenue to decline 15.9% to $35.2 billion in 2017. Analysts expect the company's adjusted EPS (earnings per share) to fall by 1% to $1.89 in 2017. Structural headwinds related to the refranchising of the company's bottling operations, currency headwinds, and weak soda volumes are expected to adversely impact Coca-Cola's results in 2017.
Analysts expect PepsiCo's revenue to rise by 1.5% to $63.7 billion in 2017. The company's adjusted EPS is expected to rise 6.1% to $5.14 in 2017. PepsiCo's management expects organic revenue growth of at least 3% and adjusted EPS of $5.09 in 2017.
Analysts expect Dr Pepper Snapple's sales to rise 4.1% to $6.7 billion in 2017 and adjusted EPS to grow 5.7% to $4.64. Based on the guidance issued in April 2017, Dr Pepper Snapple's management expects its 2017 net sales to grow by ~4%. The company expects its adjusted EPS to be in the $4.56–$4.66 range.
We'll look at the analysts' ratings for nonalcoholic beverage stocks in the next and final part of this series.