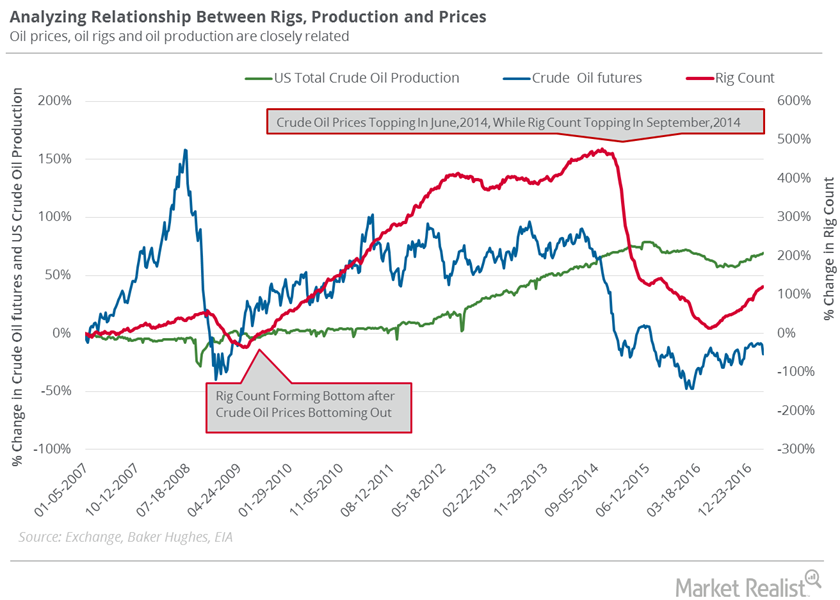 This Could Make Oil Prices Collapse
By Rabindra Samanta

Mar. 22 2017, Updated 2:06 p.m. ET
Latest oil rig data
The US oil rig count reached 631 in the week ending March 17, 2017, a 14 rig rise over the previous week, according to data released by Baker Hughes (BHI). This puts the US oil rig count at its highest level since October 2, 2015.
On March 21, 2017, crude oil (DBO) (USL) (OIIL) (SCO) prices were ~55% lower than their post-2008 crisis high on June 20, 2014, based on closing prices. Oil prices started on a downturn on June 20, 2014. The number of active oil rigs is also down 59.2% from that point.
Notably, US crude oil production is ~5.2% lower than it was at its peak in June 2015, according to weekly data from the EIA (US Energy Information Administration).
Article continues below advertisement
Rig counts and crude oil production
Over the past ten years, the oil rig count's bottoms and peaks and crude oil's bottoms and peaks have been between three and four months apart, according to research from Morgan Stanley. After the subprime housing crisis, when crude oil touched multiyear lows in January 2009, the rig count bottomed out in May 2009.
Crude oil touched a 12-year low on February 11, 2016, but it rebounded 84.1% by March 21, 2017. According to the pattern mentioned above, the rig count should have hit a bottom in June 2016.
Rig counts and crude oil prices
The rig count rose for the first time in 11 weeks in the week ending on June 3, 2016. Since then, the count has risen by 306 rigs as of the week ending March 17, 2017, an increase of 99.7% from its bottom.
During that period, crude oil production rose ~4.3%, according to weekly data. This shows the impact of rising rigs on crude oil production, and a rising number of rigs will likely mean more pressure on crude oil prices. This effect could also impact funds like the United States Brent Oil ETF (BNO), the Fidelity MSCI Energy ETF (FENY), the Guggenheim S&P 500 Equal Weight Energy ETF (RYE), and the iShares US Oil Equipment & Services (IEZ).
Rig efficiency and oil prices
Meanwhile, increased rig efficiency has been helping US oil companies produce more crude oil with fewer rigs. The EIA estimates that the oil production per rig from new wells will be 720 barrels per day in April 2017, about 33.1% higher than in April 2016. This improved efficiency could mean a lot more oil coming in the future, which doesn't bode well for oil prices.