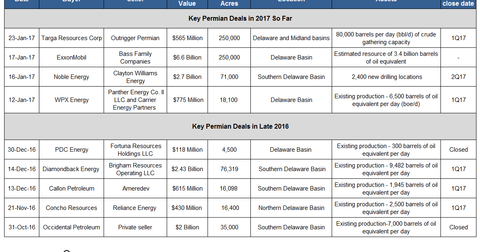 Key Permian Basin Deals in 2016 and 2017
By Keisha Bandz

Updated
Permian M&A activity
So far in 2017, several upstream companies have announced acquisitions in the Permian Basin. On January 17, 2017, ExxonMobil (XOM) announced that it will be acquiring Bass family companies for a staggering $6.6 billion. These companies hold an acreage position of 250,000 net acres in the Permian Basin and have an estimated resource of 3.4 billion barrels of oil equivalent.
Notably, on January 16, 2017, Noble Energy (NBL) announced that it would be acquiring Clayton Williams Energy (CWEI) for $2.7 billion. The deal will add 71,000 net acres to NBL's existing acreage in the core of the Southern Delaware Basin, specifically in the Reeves and Ward counties of Texas.
Article continues below advertisement
Other acquisitions
On January 12, 2017, WPX Energy (WPX) announced that it would be acquiring ~18,000 net acres in the Delaware Basin from Panther Energy Company and Carrier Energy Partners. WPX will pay $775 million for the transaction.
The latest company to acquire Permian assets is Targa Resources (TRGP). The midstream company will pay $565 million to Outrigger Permian's Midland and Delaware basin gathering and processing assets. TRGP's press release noted that the $565 million is the "initial cash consideration" and that "total potential consideration that could be paid to sellers is up to a maximum of $1.5 billion."
Key Permian events in 2016
In August 2016, Pioneer Natural Resources (PXD) acquired 28,000 acres in the Midland Basin from Devon Energy (DVN). In early September 2016, key Permian player Apache (APA) announced a new oil and gas discovery, Alpine High. Then, in late October, Occidental Petroleum (OXY) acquired interests in the Permian from an undisclosed seller.
On August 15, 2016, Concho Resources (CXO) announced its intention to acquire ~40,000 net acres in the core of the Midland Basin from Reliance Energy for $1.6 billion. Then, on November 21, 2016, CXO announced that it had entered into an agreement to acquire ~16,400 net acres in the Northern Delaware Basin for ~$430.0 million.
In July 2016, Diamondback Energy (FANG) purchased ~19,000 acres in the Delaware Basin from Luxe Energy. In October, RSP Permian (RSPP) acquired Silver Hill Energy partners, which owns acreage positions in the Delaware Basin.
Another company that managed to fit in a Permian acquisition in late 2016 was Callon Petroleum (CPE). You can read more about it in Market Realist's "Callon Petroleum Makes Its First Delaware Basin Acquisition."