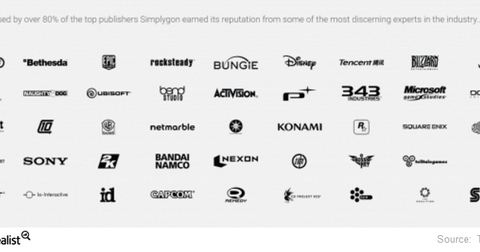 How Microsoft Could Benefit from Simplygon Acquisition
By Anne Shields

Updated
Microsoft targets 3D space with Simplygon
Microsoft made the most M&As (mergers and acquisitions) in 2015 under the guidance of CEO Satya Nadella. It continued its acquisition spree in 2016 with the acquisition of LinkedIn (LNKD), its largest acquisition to date. It's very likely that Microsoft (MSFT) will continue its buyout trend in 2017. We're not even a month into the year, and Microsoft has already announced two acquisitions: Simplygon and Maluuba.
Article continues below advertisement
Last week, Microsoft announced the acquisition of Simplygon in the AR (augmented reality) space. A Swedish company, Simplygon was developed by Donya Labs in 2006. Simplygon develops automatic 3D data optimization offerings in the 3D animation space. The financial details of the deal weren't disclosed.

According to CrunchBase, Simplygon has raised ~$1.5 million to date. Microsoft will integrate Simplygon's technology and target professional users who design, create, and edit 3D media like photos and video games.
Activision Blizzard (ATVI), Nintendo (NTDOY), and Bethesda are some of the studios that have used Simplygon's technology to create games with intensive 3D graphics.
Simplygon will complement Microsoft's HoloLens
Through Twitter (TWTR), Kudo Tsunoda, Microsoft's corporate vice president, shared that Simplygon employees who join the company will also be involved with HoloLens AR headsets. HoloLens, Microsoft's complete computing platform, is designed to serve as a comprehensive communication, entertainment, and productivity platform for Windows 10.
After SMAC, VR (virtual reality) and AR are the key areas that are expected to contribute $150 billion in the overall $13 trillion spending forecast during the next computing cycle.
Microsoft, through its HoloLens, which is still in development, aims to benefit from the expected growth in the AR and VR space in 2017. The success of Nintendo's AR mobile game, Pokémon GO, demonstrates the paradigm shift led by VR and AR.