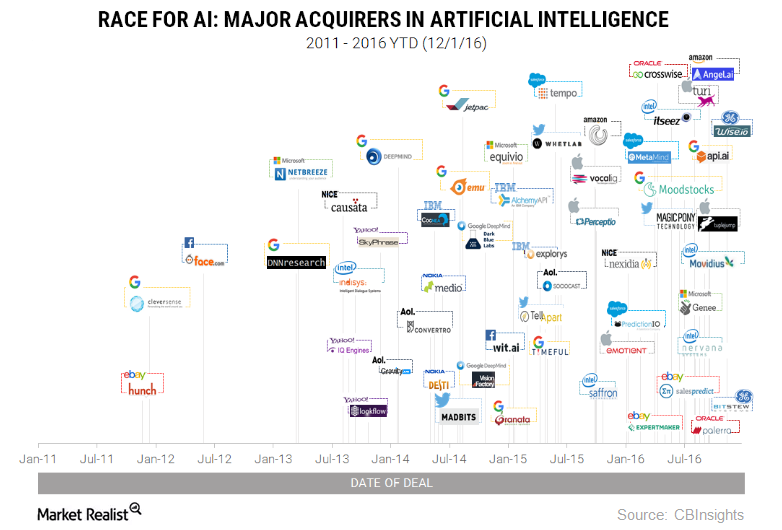 A Look at the Artificial Intelligence Acquisition Spree in 2016
Acquisition spree in 2016
Earlier in this series, we learned how AI (artificial intelligence) is set to change the IT (information technology) environment, and tech players such as IBM (IBM) are leaving no stone unturned to empower themselves in the AI space.
As shown in the above chart, more than 40 companies working or related to AI technologies have been acquired so far in 2016. As leading technology players make acquisitions in the AI space, it will gain visibility and spending will be enhanced.
Article continues below advertisement
Alphabet acquired the most AI companies
Alphabet (GOOG) topped the acquirer list with 11 acquisitions in the AI space in 2016. Oracle, Yahoo, Intel (INTC), Apple (AAPL), and Salesforce are also competing in the acquisition of AI companies. The AI space is also on Microsoft's (MSFT) radar, which is evident from its recent acquisitions of Genee and SwiftKey.
2016 also saw Salesforce (CRM) announce the launch of "Salesforce Einstein," an AI platform. Salesforce claims it is "the world's first comprehensive artificial intelligence platform for CRM.[1.customer relationship management]" Salesforce Einstein is the result of companies' various acquisitions in the AI/ML (machine learning) space. MetaMind and PredictionIO were two acquisitions Salesforce announced in the AI space.
To empower AWS (Amazon Web Services), Amazon (AMZN) recently announced three new AI (artificial intelligence) services—Amazon Lex, Amazon Polly, and Amazon Rekognition—for its cloud users.