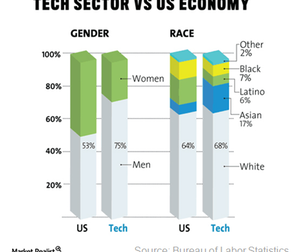 Could Trump's Attack on Immigration Be a Concern for Tech?
By Puja Tayal

Nov. 18 2016, Updated 10:04 a.m. ET
Trump and immigration
If Donald Trump imposes tariffs on Chinese imports once he becomes US President, it would have a significant impact on the semiconductor industry because its key market is China. Apple (AAPL) would be the first to get impacted by such a move.
But Trump has also proposed to restrict immigration by scaling back the US H-1B visa program, which allows companies such as such as Apple, Google (GOOG), and Intel (INTC) to source skilled immigrants from across the world. This would likely have a major impact on the technology sector, wherein 17% of the workforce is Asian, according to data from the Bureau of Labor Statistics.
Article continues below advertisement
Restriction on immigration to negatively impact tech
A report in the Washington Post stated that Trump views immigrants as roadblocks rather than entrepreneurs who could establish startups that could, someday, become multi-billion dollar businesses. According to a data from the Equal Employment Opportunity Commission, more Asians work in high-tech industries than in any other profession in the US.
Intel's 2015 diversity report showed that 32.8% of its US workforce is Asian. In fact, 22.9% of its workforce in leadership roles is Asian, and the tech industry has been lobbying to expand the US H-1B visa program to give them more flexibility to hire skilled immigrants. But scaling back the visa program could leave the industry deprived of the talented workforce required to develop new products and services.
Creating industrial jobs by bringing production back home
Another aspect of Trump's strategy to improve employment in the country is to encourage companies to bring production back to American hometowns by providing subsidies. For instance, Intel and Micron Technology (MU) could shift complete production to the US as they already have fabrication facilities in the country. If the number of factories in the country increases, it would create strong growth opportunities for companies like Texas Instruments (TXN) and Analog Devices (ADI), which have strong exposure in the industrial space.
Tusk Holdings, a regulatory advisor to tech startups, stated that Trump's election may also start a debate about how automation could be killing jobs. Self-driving cars may leave truck drivers jobless, and industry automation could reduce manpower requirement in factories. Trump's entire focus is on bringing industrial jobs and his efforts may impact STEM (science, technology, engineering, and mathematics) jobs as well.
Now let's take a look at Trump's tax policies.