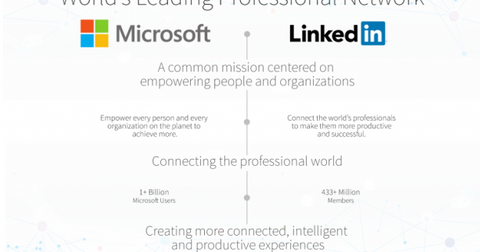 Why Salesforce Has Concerns about the Microsoft-LinkedIn Deal
By Anne Shields

Updated
Anticompetitive concerns
Recently, Salesforce (CRM) made the news when a Wall Street Journal report indicated that the company was considering acquiring Twitter (TWTR).
On September 30, 2016, Salesforce again made the news when it raised objections about the deal between Microsoft (MSFT) and LinkedIn (LNKD).
According to a Wall Street Journal report, Salesforce has raised concerns with regulators and antitrust authorities in the United States and Europe (EFA), stating that the deal would curb competition.
Article continues below advertisement
Key concerns raised over the deal
The above-mentioned report, which cited Burke Norton, Salesforce's chief legal officer, stated, "Microsoft's proposed acquisition of LinkedIn threatens the future of innovation and competition." In other words, Salesforce feels that a Microsoft-LinkedIn combination could give Microsoft an unfair competitive edge over its peers.
Microsoft is a dominant player in the software space, and LinkedIn is considered to be a goldmine of data. In its latest earnings release, LinkedIn claimed to have 450 million members in ~200 countries and a total of 106 million monthly active users.
Salesforce argued that if LinkedIn were to become part of Microsoft, other companies wouldn't be able to access LinkedIn's data. By acquiring LinkedIn, Microsoft will gain access to a "social graph," the online networking idea that enables us to see how users are connected and linked to each other through their hobbies, interests, and activities.
Microsoft will have access to this valuable data, which it currently doesn't have, as its offerings don't have a social networking component, unlike its peers Google (GOOG) (GOOGL) and Facebook (FB).
The above-mentioned report citing Norton also stated that the Microsoft-LinkedIn deal raises "data privacy issues" that regulators in the United States and Europe should look into.