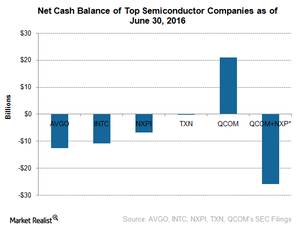 How Acquiring NXP Could Impact Qualcomm's Balance Sheet
By Puja Tayal

Dec. 4 2020, Updated 10:53 a.m. ET
Acquisition a viable option for Qualcomm
In this series, we've seen that Qualcomm (QCOM) is facing several headwinds in a slowing smartphone market. Despite this, it has strong cash flows due to strong profits from its licensing business. The company has been looking to diversify into the adjacent IoT (Internet of Things) and automotive markets but the growth is slow. The best way to tap this opportunity is through acquisition.
Article continues below advertisement
Merger rumors surround Qualcomm
In October 2016, there were rumors of a Qualcomm-NXP Semiconductors (NXPI) merger, to which the stocks of both companies reacted positively. Analysts reacted to the rumor. While some welcomed the deal, some said the integration would be difficult due to the difference in culture and business models.
Analysts suggested that Intel (INTC), Texas Instruments (TXN), and Broadcom (AVGO) were also interested in NXP because of its broad product portfolio and dominant position in the automotive semiconductor market. However, none of them had a strong enough balance sheet to fund a major acquisition.
Qualcomm financially strong to take up a major acquisition
With a net cash balance of $20 billion, Qualcomm seems financially strong enough to initiate such a large merger. NXP could put Qualcomm in a dominant position in the automotive market and increase its adjacent segment's size from less than 2% of the company's revenue to 26%.
How would the merger affect Qualcomm's cash-to-debt position?
If the rumors are true, Qualcomm is planning to acquire NXP for $47 billion. However, it's difficult to say if it would be an all-cash deal or cash-stock deal. Let's look at both the scenarios.
If the merger is an all-cash deal and Qualcomm funds the deal with 50% cash and 50% debt, the combined company would have a cash reserve of $7.5 billion and debt of $33.5 billion. Qualcomm's net cash position of $21 billion would turn into a net debt position of $26 billion.
If the merger is a cash-stock deal and Qualcomm funds it equally, then the combined company would have a cash reserve of $19.3 billion and debt of $10 billion. In this case, its net cash position would be $9.3 billion.
The combined company would generate over $8 billion in annual free cash flow, which it could use to repay debt and buy back shares. In every way, a QCOM-NXP merger would be an ideal use of Qualcomm's cash reserves. Next, we'll look at how shareholders could benefit from the merger.