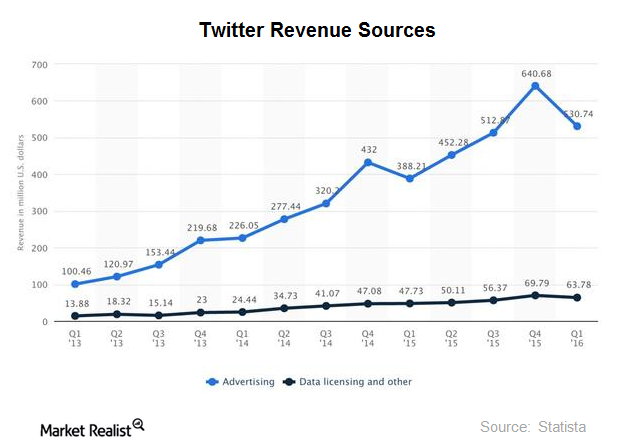 Microsoft Is the Latest to Show Interest in Twitter
Twitter could be Microsoft's next addition
So far in this series, we discussed Salesforce's (CRM), Google's (GOOG) and The Walt Disney Company's (DIS) interest in Twitter (TWTR). As reported by CNBC, the latest company to join this queue is Microsoft (MSFT), the largest company in the enterprise software space. When it comes to acquisitions, Microsoft has not only announced the largest acquisition to date but also made the most acquisitions in the tech space in 2015.
Twitter isn't the first social media space company to capture Microsoft's interest. Microsoft invested in Facebook (FB) in its early stages.

Article continues below advertisement
Microsoft might be attracted to Twitter's data stream
If we look at the contributions of various products toward Microsoft's overall revenues in 2015, we will find that Microsoft has a diversified product portfolio—no single offering contributes more than 20% of the overall revenues. Microsoft's Office, cloud, and server offerings contribute the most toward the company's overall earnings. These are followed by the gaming segment, which includes Xbox hardware.
Therefore, it's not difficult to understand how Twitter would complement Microsoft's growth strategy, which is now focused on AI (artificial intelligence). At its 2016 Ignite conference, Microsoft shared its vision of its future, which primarily involves AI, the cloud, and security. The Ignite conference, which started on September 26, 2016, is expected to run until September 30, 2016.
According to TechCrunch, Microsoft CEO Satya Nadella stated that "AI is at the intersection of our ambitions," which would allow Microsoft "to reason over large amounts of data and convert that into intelligence."
Microsoft could be interested in Twitter to get access to the data stream generated by Twitter. Analyzing Twitter's data stream enables businesses to derive and understand trends and work on business opportunities.
You could consider investing in the PowerShares QQQ Trust, Series 1 ETF (QQQ) to gain exposure to Microsoft, which makes up 8.4% of QQQ. Investors who would like exposure to application software could also consider this ETF. Application software makes up ~28.4% of QQQ.