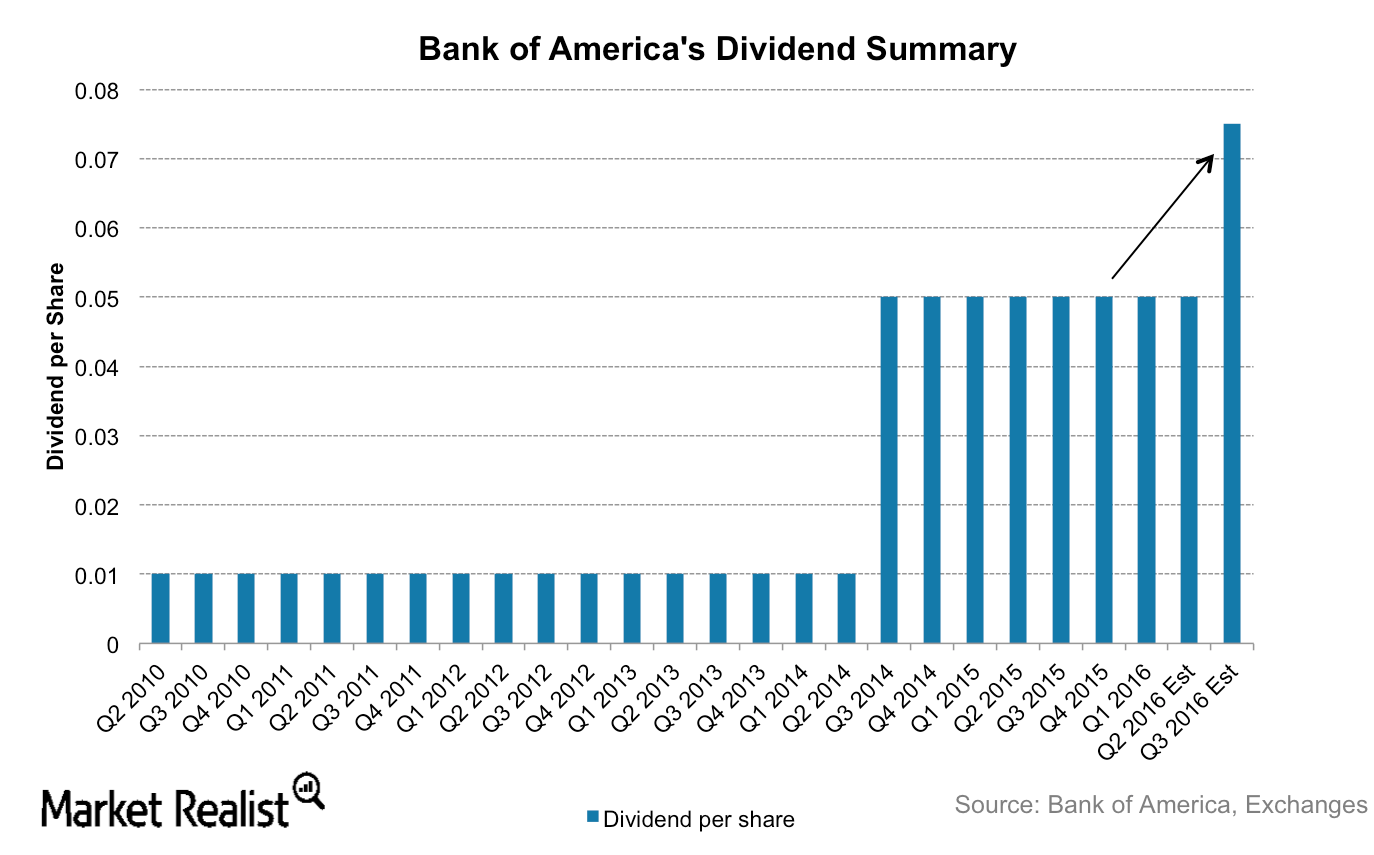 How Did Bank of America Perform on 2016 Stress Tests?
By Rebecca Keats

Dec. 4 2020, Updated 10:52 a.m. ET
Bank of America hikes dividend after it cleared stress tests
Bank of America boosted its dividends by 50% to $0.075 after it cleared the Fed's 2016 stress tests. It will also buy back stock worth $5 billion over the next 12 months. Previously, Bank of America failed three stress tests. The company's dividend will be effective beginning in the third quarter. Unlike many of its peers that have raised their dividends annually since 2011, Bank of America has boosted its quarterly payout only once since then.
Article continues below advertisement
Bank of America's dividend yields
The Fed's approval is important for investors who have been disappointed with the bank's low payout ratio. Bank of America (BAC) has been under pressure to increase its dividends payout for some time now. Its banking peers (IYF) have already restored their dividends to pre-recession levels. However, Bank of America has a long way to go. Its current dividend of $0.075 is much lower than $0.64 before the crisis. Bank of America's payout ratio is expected to rise to 49% from 36%.
Over the next 12 months, Bank of America will return $8 billion in capital to shareholders, including $3 billion in dividends. Such large-scale share repurchase plans reflect the company's confidence in its current valuations as well as long-term prospects. While the magnitude of Bank of America's capital plan is on par with peers Citigroup (C) and JPMorgan (JPM), its dividend yields remain significantly lower.
Its dividend of $0.075 equates to a dividend yield of 2%, which is lower than Wells Fargo and JPMorgan Chase. For 1Q16, it announced a dividend of $0.05 per share, which is flat on a quarterly and year-over-year basis. During the quarter, the company repurchased $1 billion in common stock and paid $0.5 billion worth of dividends to its shareholders.
In comparison, Capital One Financial (COF) added $300 million to its existing share repurchase plan in February. Wells Fargo (WFC) expanded its buyback plan by $17 billion in January.