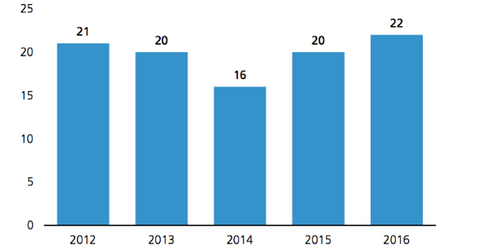 Why Is the Software Space Still in an M&A Frenzy in 2016?
By Anne Shields

Updated
Increased M&A (merger and acquisition) activity in the software and cloud spaces
Earlier in the series, we took a look at Symantec's (SYMC) latest acquisition of Blue Coat Systems. June 2016 also saw Salesforce.com (CRM) and IBM (IBM) announce some acquisitions. IBM announced the acquisition of EZSource, an Israel-based (ISL) (EIS) company focused on application discovery. Salesforce.com announced the acquisition of Demandware for $2.8 billion. Demandware provides software to design e-commerce websites.
IBM is known to be aggressive in announcing acquisitions. But Salesforce.com made the news this time with the largest deal in the cloud space in its 17 years of existence.
According to Tom Roderick, an analyst with Stifel Nicolaus, "The acquisition speaks more to the fact that the M&A environment is as robust in software as we've seen at any point in the past three to four years."
Article continues below advertisement
He also raised a point that concerns the entire software market about who could be the next target for big players such as Microsoft (MSFT) and Oracle (ORCL). He said, "I think the derivative impact of this acquisition will be a very interesting question: Who does Oracle buy next? What about Microsoft?"
M&A deals in 2016 to date have already outpaced deals in the last four years
According to UBS Financial Services and as the above chart shows, 22 software acquisitions were announced in the first five months of 2016. That's higher than the total number of software deals announced or finalized in each of the past four years.
In April 2016, Oracle acquired cloud companies Textura and Opower. Oracle stated that Opower's acquisition will enable it to become the "largest provider of mission-critical cloud services to utilities." Cloud is at the forefront of Oracle's business, as it is for peers Microsoft and IBM.
If we look at how the SMAC (social, mobile, analytics, and cloud) revolution is changing today's IT (information technology) scenario, the M&A fever that has gripped the software space comes as no surprise. Brent Thill, an analyst at UBS, believes dealmaking activities will only increase, especially in the cloud software space, as more and more big players believe in growth potential.
Private equity firms have also joined the M&A frenzy with investments in Marketo and SciQuest in June 2016.
For diversified exposure to companies in the US software space, you can consider investing in the Technology Select Sector SPDR ETF (XLK). XLK has ~38% exposure to application software.
Next, let's look at Symantec's new chief executive officer.