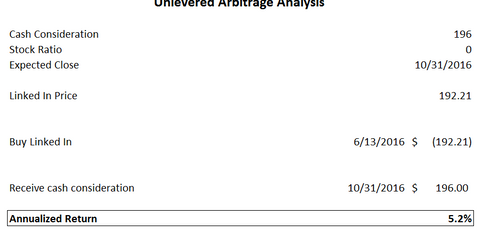 Microsoft Purchases LinkedIn, Enters Social Networking Space
By Brent Nyitray, CFA, MBA

Jun. 14 2016, Published 5:53 a.m. ET
Merger arbitrage
In merger arbitrage, an investor generally buys the stock of the company being acquired, short sells the relevant ratio of the acquirer's stock if applicable, and waits for the deal to close. When the merger is complete, the investor exchanges the stock of the company being acquired for the amount agreed on in the deal.
Article continues below advertisement
Microsoft buys LinkedIn
On June 13, Microsoft (MSFT) announced a deal to buy professional social networking firm LinkedIn (LNKD) for $23.9 billion in cash. LinkedIn shareholders will receive $196 in cash per share of LinkedIn they own. The companies are guiding for a closing date by the end of the year. Microsoft intends to finance the purchase with newly issued debt in lieu of using stock or repatriating cash held overseas. This transaction won't interfere with Microsoft's buyback plan. It will still be completed by the end of the year.
Since there doesn't appear to be an overlap that would concern antitrust authorities, the deal should close in the normal four or five-month timeframe for a strategic deal with a straightforward regulatory process. Assuming a closing date at the end of October, an investor buying LinkedIn at Monday's closing price of $192.21 would make 2% gross or 5.2% annualized.
The deal is part of Microsoft's plan to move from PCs and software to more cloud-based offerings.
Merger arbitrage resources