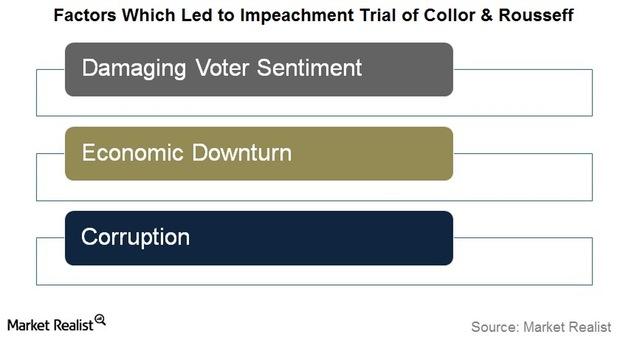 Rousseff's Is Not Brazil's First Impeachment
By David Ashworth

May. 16 2016, Published 2:53 p.m. ET
Impeachment in the 90s
Dilma Rousseff's is not the first impeachment that's taken place in Brazil. In the early 90s, then-president Fernando Collor de Mello was impeached after proceedings found him guilty. To date, he is the youngest president to take office in Brazil's history. He was just 40 when he took office.
The two impeachment situations have a few factors in common.
Article continues below advertisement
Common situations between then and now
Brazil's economy was in doldrums when Fernando Collor de Mello was impeached in 1992. At present, the economy is facing a similar situation. The country's economic output fell 4.3% in 1990, the year in which Fernando Collor de Mello assumed office. Rousseff had a bit more time. In 2015, Brazil's economy contracted by 3.8%. A downturn in the economy was accompanied by a corruption scandal in both instances.
Another commonality between the two situations was that both Fernando Collor de Mello and Rousseff implemented schemes that they'd vehemently opposed prior to taking office.
Fernando Collor de Mello had won the election by defeating Rousseff's predecessor Luiz Inácio Lula da Silva. In his election campaign, he had pressed on with the argument that Lula would freeze bank accounts following his victory. After taking office, Fernando Collor de Mello did the exact same thing. He did so to tackle the inflation that had gripped the economy, allowing the withdrawal of only small amounts for essential expenditures.
Meanwhile, in her re-election campaign in 2014, Rousseff cautioned voters about her opponents' intentions to push through hurtful fiscal adjustments. After her victory, she endeavored to put into effect similar fiscal adjustments. Due to these moves, these presidents became very unpopular with voters.
Rousseff's impeachment has caused stocks to rise (CIG) (ELP), except for a few (BAK). The rally has even helped stocks such as Eletrobras (EBR), which could be delisted by the U.S. Securities and Exchange Commission on graft accusations. Related instruments (FLFAX) have risen as well.
With this background in mind, let's look at Brazil's economic situation.