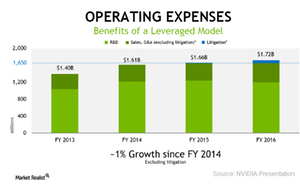 Why NVIDIA's Patent Settlement with Samsung Surprised Investors
By Puja Tayal

Updated
NVIDIA is on the lookout for a licensing deal
So far, we've seen that NVIDIA's (NVDA) GPUs (graphics processing units) are widely used in its four key markets: gaming, professional visualization, data center, and automotive. The company has failed to make its mark in the mobile and tablet space. It's looking to earn revenue by claiming royalties from competitors using GPUs.
NVIDIA has been looking to secure a licensing deal with South Korea's (EWY) Samsung (SSNLF) and the United States' Qualcomm (QCOM) as a settlement to its patent lawsuit filed in September 2014.
Article continues below advertisement
NVIDIA reaches out-of-court settlement with Samsung
Recently, NVIDIA reached an out-of-court settlement with Samsung a few hours before the US ITC (International Trade Commission) was due to announce its final verdict.
As part of the settlement, NVIDIA and Samsung would cross-license a "small number" of intellectual property, not a broad patent portfolio, for zero financial compensation. Moreover, the two companies agreed to end all of their patent disputes in the US district courts, the US ITC, and the US Patent Office.
The dismissal of all litigations between the two companies will reduce legal costs for NVIDIA's operating expenses.
Settlement surprises investors
The settlement came as a surprise, as it was not what was expected. NVIDIA entered into this legal battle to get a royalty payment, and the final settlement included no exchange of money. Neither company furnished any further details about the settlement, creating ambiguity about why they'd entered into this legal battle in the first place.
As for Qualcomm, it was only involved in NVIDIA's initial case against Samsung. As the settlement dismissed all patent lawsuits between NVIDIA and Samsung, it automatically dismissed NVIDIA's case with Qualcomm.
The future of NVIDIA's licensing business
NVIDIA won a six-year licensing deal from Intel (INTC) in 2011 as part of a patent lawsuit settlement. The royalty amount of $66 million earned from Intel accounts for 5% of NVIDIA's quarterly revenue. The deal expires in March 2017, which means that NVIDIA will lose 5% of its revenue in fiscal 2018.
The settlement with Samsung means that NVIDIA's licensing segment will cease to exist unless the company attracts other companies to license its technology. While NVIDIA is losing its licensing revenue, Advanced Micro Devices (AMD) has secured a $293 million licensing deal with China for its server chips.
In the next part of the series, we'll look at NVIDIA's cash position and whether it can withstand this headwind.