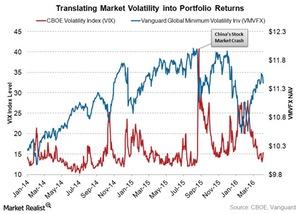 How Hedge Funds Translate Market Volatility into Returns
By Surbhi Jain

Updated
Trading volatility
The HFRX RV: Volatility Index rose 6.3% in 2015, while the Vanguard Total Stock Market ETF (VTI) fell 3.4%. The S&P 500 Index (SPY) (VOO) rose 0.25% in 2015. The HFRX RV: Volatility Index seeks to track the performance of hedge fund strategies that trade volatility as an asset class, employing arbitrage, directional, market neutral, or a mix of types of strategies. The volatility strategy may require investors to take a long, short, neutral, or variable position depending on the direction of implied volatility.
Similarly, the HFRI RV: Volatility Index has risen 2.3% over the past 12 months. The index's strategy is based on making gains from relative value.
Article continues below advertisement
Funds that trade volatility
Global markets have become a roller-coaster ride. Uncertainty abounds in monetary policy directions, growth prospects, and investment returns. The rise in Market and economic volatility has also made portfolio returns volatile. In such times, investors often prefer to stay diversified over geographies while minimizing the volatility exposure of their portfolio.
The Vanguard Global Minimum Volatility Fund (VMVFX) is an actively managed mutual fund that uses computer-driven models to construct a basket of stocks that exhibit low volatility with special attention to their correlation to one another. The fund also employs hedging strategies to minimize foreign currency risk. The fund has returned 9.7% over the past two years and 3.2% over the past three months, as of April 4. The American Funds Global Balanced Fund A (GBLAX), another volatility-minimizing fund, has risen 3.6% over the past three months.
In the next part of this series, we'll move on to equities and look at what strategies have been effective this year.