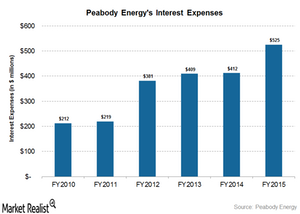 What Does Bankruptcy Mean for Peabody Energy's Investors?
By Sheldon Krieger

Apr. 26 2016, Updated 7:05 p.m. ET
Peabody Energy's growing concerns
Peabody Energy's (BTUUQ) Chapter 11 bankruptcy filing is aimed at reorganization to facilitate financial restructuring. It was a similar case for Walter Energy (WLTGQ), Arch Coal (ACIIQ), and Alpha Natural Resources (ANRZQ).
According to the debt structure of the company, Peabody was supposed to pay interest on its 6.5% senior notes due September 2020 and 10.0% senior secured second lien notes due March 2022 by March 15, 2016. However, the company delayed its interest payment and elected to exercise its 30-day grace period provision in anticipation of closing its mine sale deal, the Four Star Operations, with Bowie Resource Partners. The deal was supposed to be closed during 1Q16. However, the deal could not happen within the 30-day grace period. As a result, the company filed for Chapter 11 bankruptcy protection to preserve and maximize liquidity.
Article continues below advertisement
Chapter 11 filing
Chapter 11 is usually filed by a debtor to keep its business alive and pay creditors over time. Creditors generally agree to the restructuring plan if they believe the sum value of the reorganized company is greater than its individual parts if sold separately.
According to Peabody's news release on its Chapter 11 filing, the bankruptcy court approved all of the first-day motions related to its Chapter 11 restructuring on April 14, 2016.
First-day motions seek approval to make immediate payments, post-petition financing agreements, payments to employees, and other procedural issues.
What about investors?
Approval of first-day motions generally helps the debtor's (BTUUQ) transition to Chapter 11. With this approval, Peabody can continue operating its business as usual. It has to implement the agreement reached with the majority of lenders under the first lien financing facility.
Low-risk investors or secured creditors will be paid first before paying unsecured creditors. Bondholders have greater chances of recovering their money than stockholders.
In general, bondholders don't receive any interest or principal payments. Stockholders don't receive any dividends during bankruptcy.
According to company filings, Peabody has about $11.0 billion in consolidated assets and about $10.1 billion in consolidated liabilities on its balance sheet as of December 31, 2015.