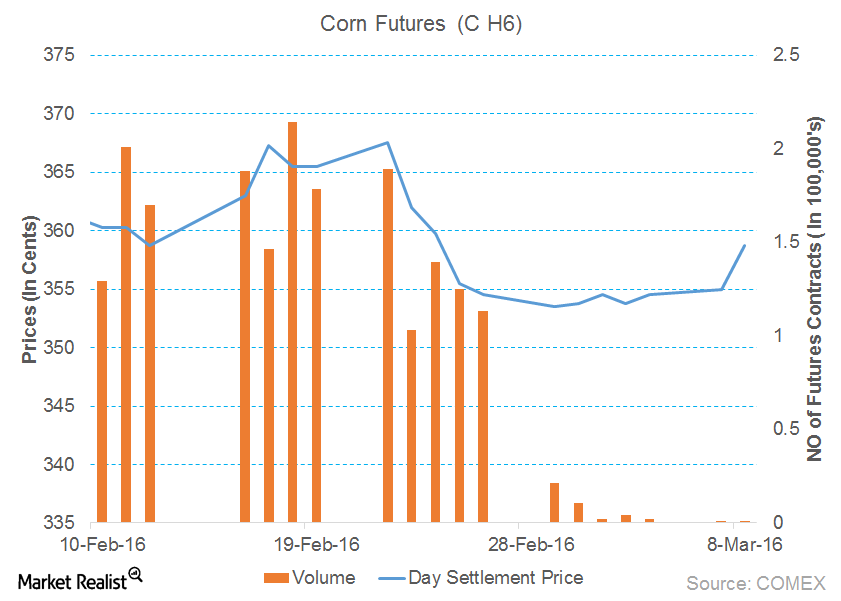 Corn Prices Rose despite Weaker European Import Cues
Corn prices rose
Corn futures on the CBOT (Chicago Board of Trade), for March delivery, rose by 1.1% and settled at $3.58 per bushel on March 8, 2016. Corn prices rose despite weaker European corn import prospects from the European Commission for 2016–2017. The Teucrium Corn Fund (CORN) rose on March 8, 2016. It rose by 0.29% following the price movement on the CBOT.
On March 8, the European Commission released its outlook for 2016–2017. Corn harvests are expected to rise by over 9.2 million tons to 67.3 million tons. Despite stronger corn production, the European Commission projects that corn imports in 2016–2017 would remain at 10.5 million tons—0.5 million tons lower year-over-year. Weaker European corn import projections hurt US corn export prospects on the day.
Article continues below advertisement
The World Agriculture Supply and Demand Estimates report for March is expected to remain bearish. There have been stronger corn production forecasts from Brazil and Argentina—South America's key production giants. On March 8, Dr. Michael Cordonnier kept the Brazilian corn production estimate unchanged at 84 million tons. Favorable weather conditions are expected to support corn production sentiments. It boosted the strength on the supply side.
The sentiments suggest that weaker-than-anticipated exports from the US might receive another jerk due to stronger South American output. Analysts think that it might push the global corn inventories to a record high. Before the planting season, higher output projections could influence the prices negatively. It could hurt the futures prices. It might present an opportunity to enter such a contract.
Stock discussion
The increase in corn price supports the share values of companies in the corn producing and trading business. The stock values of companies such as CHS (CHSCP) and Campbell Soup (CPB) rose by 0.42% and 0.74% on March 8, 2016. In contrast, the shares of Ingredion (INGR) and Dean Foods (DF) fell by 0.45% and 0.15% on March 8. The PowerShares DB Agriculture Fund (DBA) rose by 0.34% on March 8, 2016.