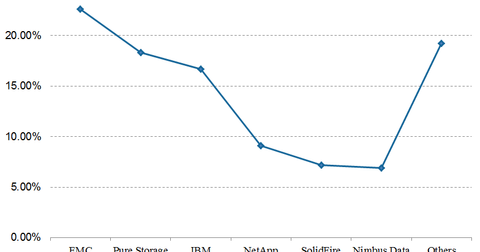 NetApp Completed SolidFire Acquisition in December 2015
By Adam Rogers

Updated
Deal valued at $870 million
In December 2015, NetApp (NTAP) announced that it was looking to acquire SolidFire for $870 million in cash. SolidFire is one of the market leaders in the all-flash storage system space. The acquisition was completed in early February 2016 and should enable NetApp to increase penetration in the rapidly growing all-flash market.
"This acquisition will benefit current and future customers looking to gain the benefits of webscale cloud providers for their own data centers," said George Kurian, chief executive officer of NetApp.
Article continues below advertisement
"SolidFire combines the performance and economics of all-flash storage with a webscale architecture that radically simplifies data center operations and enables rapid deployments of new applications. We look forward to extending NetApp's flash leadership with the SolidFire team, products and partner ecosystem, and to accelerating flash adoption through NetApp's large partner and customer base."
EMC leads the all-flash array market
Once dominated by storage startups, flash technology has grabbed the attention of traditional enterprise storage vendors like EMC (EMC), NetApp, IBM (IBM), and Cisco (CSCO). The all-flash market is consolidated, with the top six players accounting for over 80% of the total revenue.
According to a report from IDC (International Data Center) and as shown in the above chart, NetApp and SolidFire account for 9% and 7.2% of the all-flash array market, respectively. This acquisition should help to increase NetApp's share significantly.
The IDC noted that among the startups, Pure Storage and SolidFire led the flash space in terms of revenue. Since its founding in 2009, Pure Storage saw its all-flash storage technology gaining popularity among its customers. The company's customer base increased by 200% in 2014.
NetApp constitutes 2.6% of the SPDR Morgan Stanley Technology ETF (MTK).