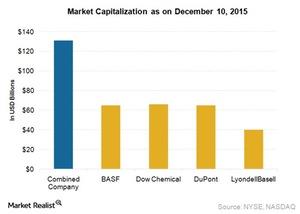 Analyzing the Dow Chemical and DuPont Merger
By Steve Ariel

Updated
Dow Chemical and DuPont's merger
According to the Wall Street Journal, the world's two leading chemical companies—Dow Chemical (DOW) and DuPont (DD)—are in the final stages of negotiations to merge the companies. The merger would create the world's second-largest chemical company and largest agriculture chemical company. If the merger materializes, the combined company would be worth of more than $130 billion.
The deal is expected to be announced in a few days. However, neither Dow Chemical or DuPont confirmed the deal. Currently, the terms of the deal aren't known. The deal is expected to be equal with no premium for either company. Both of them have a market capitalization of around $65 billion each.
Article continues below advertisement
The Wall Street Journal also stated that after the merger, the combined company could be broken up into three separate businesses—agricultural, materials and sciences, and specialty products. After the merger news, Dow Chemical and DuPont's investors cheered the deal. Their stock rose 12% on the day after the merger news—December 9, 2015.
Dow Chemical and DuPont's divestments
Dow Chemical and DuPont have been under immense pressure from their shareholders to cut down their lower margin businesses. They have been pressured to increase their focus on higher margins and growing businesses like specialty products. As a result, they restructured their product portfolios and divested many businesses over the last few years.
DuPont generated a cumulative sum of $6.4 billion through asset sales during 2012–2014. It divested its performance chemical and performance coating businesses.
Article continues below advertisement
Dow Chemical completed the cumulative divestment of $1.4 billion during 2012–2014 with the sale of polypropylene-related businesses. Dow also divested its chlorine business for $5.0 billion and ANGUS chemical for $1.2 billion in this financial year. To learn more about Dow Chemical and DuPont's divestments, you can read our company overview series.
Merger talks in the chemical industry
Monsanto (MON) is the leading agriculture chemical player. It was about to acquire the European chemical player Syngenta (SYT) for $46 billion in August 2015. However, the deal didn't materialize due to resistance from Syngenta. DuPont and Dow Chemical have been looking for potential merger and acquisition deals for their agricultural chemical businesses. Initially, DuPont was negotiating a deal for its agriculture segment with Syngenta and Dow Chemical. Later, this unexpected merger news came and investors welcomed the deal.
The Materials Select Sector SPDR ETF (XLB) largely tracks the performance of major chemical players. The iShares U.S. Basic Materials ETF (IYM) tracks the performance of the US-based basic material companies including chemical. Dow Chemical and Dupont form 22% of XLB's total holdings.