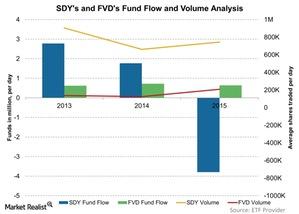 A Fund Flow Analysis of SDY
By Ivan Kading

Nov. 30 2015, Updated 1:07 p.m. ET
SDY versus FVD
The SPDR S&P Dividend ETF (SDY) seeks to mimic the investment results of the S&P High Yield Dividend Aristocrats Index. The index selects stocks that not only regularly provide high dividends to investors but also have the capability to provide capital appreciation.
A similar smart beta ETF, the First Trust Value Line Dividend ETF (FVD), builds its portfolio on the basis of dividend yield. The ETF seeks to track the performance of the Value Line Dividend Index. The index provider of FVD selects stocks that pay regular dividends to investors and are fundamentally stable.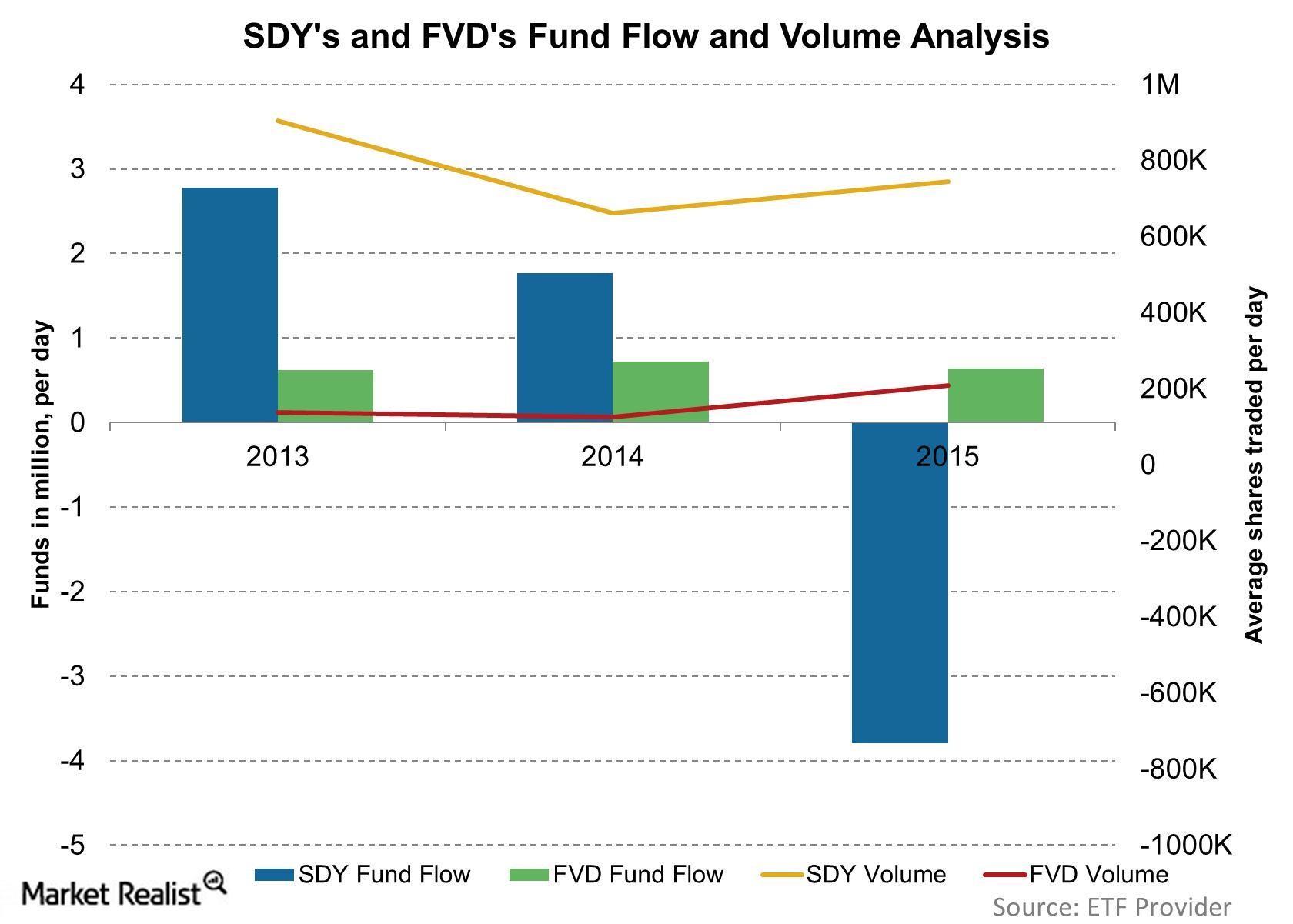 The above graph compares the fund inflows and volume growth of SDY and FVD, which helps in understanding the demand for each fund in the market.
Article continues below advertisement
Negative fund inflows in 2015
Apparently, SDY has seen a massive drop in its fund inflow in 2015 due to its weak performance in the market and earnings reported by its holdings. FVD's fund inflow growth has remained flat in the market since 2013, as seen in the graph.
The volume of SDY's shares traded per day in the market has also reduced, while FVD has observed positive growth in its volume traded.
Portfolio comparison
The top holdings of SDY include Caterpillar (CAT), ExxonMobil (XOM), and People's United Financial (PBCT). FVD, on the other hand, has top holdings such as AbbVie (ABBV), BOK Financial (BOKF), Chevron (CVX), and MSC Industrial (MSM).
As of November 25, 2015, the average dividend yield of SDY's total portfolio is 2.9%, whereas the average dividend yield of FVD's portfolio is 3.2%.
Read the next part of the series for a complete holdings analysis of SDY's portfolio.