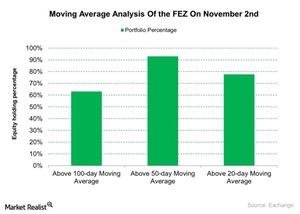 FEZ: 93% of the Portfolio above 50-Day Moving Average
By Sarah Sands

Updated
The SPDR Euro Stoxx 50 ETF's moving averages
On November 2, 93% of the portfolio holdings of the SPDR Euro Stoxx 50 ETF (FEZ) closed above their 50-day moving average. This is a sign of a short-term uptrend where the 50-day moving average will be a strong support point for these individual stocks.
The graph above shows the percentage of FEZ's portfolio holdings that are above 100-day, 50-day, and 20-day moving averages.
Article continues below advertisement
What does the moving average indicate?
The moving average is the average stock price over a certain period of time. It's a trend-following indicator, also known as the lagging indicator because it is calculated based on past prices.
When the stock price crosses a moving average, the trend changes. If the stock price crosses its longer-term moving average, meaning its 100-day moving average, then this indicates an uptrend where the moving average is a strong support point. When the stock price crosses its short-term moving averages, meaning its 50-day or 20-day moving average, it indicates a short-term uptrend. In that short-term uptrend, it will maintain the 50-day and 20-day moving averages as its first and second support points. The support point is the point at which buyers will not allow the price to go down or the point at which there are more buyers than sellers.
The SPDR Euro Stoxx 50 ETF (FEZ) is invested in large capitalization stocks such as Sanofi (SNY), Total (TOT), Banco Santander (SAN), Siemens (SIEGY), and Anheuser-Busch InBev (BUD). These stocks make up 5.0%, 4.8%, 3.4%, 3.1%, and 3.6%, respectively, of the FEZ portfolio. Next, we'll analyze the ETF from a statistical point of view.