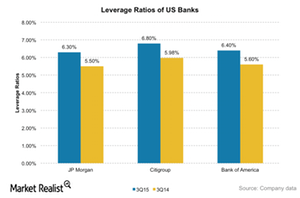 US Banks' Asset Quality Is Improving, Dodd-Frank Act Is Working
By Rebecca Keats

Updated
Capital and liquidity ratios are improving
Big banks' (KBE) third-quarter earnings offered strong signs that the Dodd-Frank Act is working well. Banks are focusing on building their balance sheets and enhancing asset quality. Capital and liquidity are being maintained at the required regulatory levels and lending is up.
Even though bank earnings have been lackluster, deposits and lending have been growing like never before. Credit quality has also been improving, as is visible from the net charge-offs ratio and non-performing assets.
Article continues below advertisement
As a result of better credit quality and other positive industry trends, banks have been able to build up their capital and liquidity. Leverage ratios for banks (FNCL) have also been improving. Leverage ratios are measures of the quality of banks' assets. Leverage ratios are defined as the proportion of a bank's tier 1 capital ratio to its total assets.
JPMorgan Chase's (JPM) leverage ratio increased to 6.3% in 3Q15 from 6.0% in 2Q15 and 5.5% in 3Q14. Citigroup's (C) leverage ratio improved from 6.0% in 3Q14 to 6.8% in 3Q15. In comparison, Bank of America (BAC) reported a leverage ratio of 6.4% in 3Q15, up from the 5.6% it reported in 3Q14.
What is the Dodd-Frank Act?
The Dodd-Frank Wall Street Reform and Consumer Protection Act is a financial law passed in an attempt to prevent events similar to the 2009 financial crisis from occurring again.
The act primarily affects financial institutions, such as banks, and their customers. The Act established new government agencies that monitored the performance of financial institutions that were often deemed "too big to fail."
The agencies established had the power to liquidate or restructure companies that they found to be financially weak and that might pose a risk to the financial system due to their sheer size.