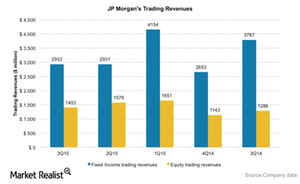 Trading Revenues Weigh Down on J.P. Morgan's Earnings
Trading businesses of US banks expected to suffer
J.P. Morgan (JPM) started the quarter's bank earnings with a miss. The bank reported an EPS (earnings per share) of $1.32, which was below expectations of $1.38. A setback in trading volumes of U.S stocks (SPY) due to global weakness was expected, and J.P. Morgan's earnings are a reflection of that.
In a Barclays (BCS) conference held in September, officials from J.P. Morgan, Citigroup (C), and Bank of America (BAC) had warned about a 5–10% fall in trading revenues from the fixed income, currency, and commodities units. In its conference call, J.P. Morgan further warned that fourth quarter revenues could also be affected by the trading rout, which has led investors to withdraw from trading in certain asset classes such as fixed income, currency, and commodities.
Article continues below advertisement
J.P. Morgan chief financial officer, Marianne Lake, mentioned that "challenging" market conditions led to a drop in revenues in the trading division. She also highlighted that lower commodity prices affected the bank. The bank had to set aside $232 million, partly to cover loans made to some oil and gas companies.
J.P. Morgan's trading revenues hurt by global weakness
The bank said trading revenues fell 15% during the quarter to $4.3 billion and were also lower than the $5.1 billion recorded during the same period last year. A $2.2 billion tax benefit helped the bank report a 22% increase in third quarter profits.
Revenues from fixed income, currencies, and commodities trading fell 23% to 2.9 billion. However, the losses were offset by equities trading, where revenues rose 9% to $1.4 billion. The losses were also offset by strong trading volumes in emerging market debt and equity derivatives.