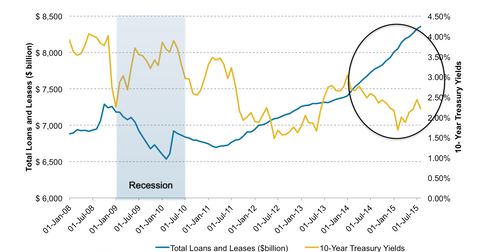 Loan Balances Grew amid Low Interest Rate Environment in 2Q15
By Rebecca Keats

Updated
Loan balance continues to rise steadily
In the second quarter of 2015, US banks witnessed a growing loan portfolio backed by low interest rates and improving economic fundamentals. Total loans and leases in bank credit grew at a seasonally annualized rate of 7.8% in 2Q15 compared to the corresponding period in the previous year. Although this number is slightly lower than the growth of 8.0%, it's still considerably high.
The total outstanding loans, one of the key economic indicators, has shown tremendous improvement over the years. This is also a reflection of the investment landscape of a country. Since the pre-recession peak of $7.3 trillion in October 2008, the total loans fell to a low of $6.5 trillion in February 2010. Since then, loans have grown steadily to $8.36 trillion in 2Q15.
Article continues below advertisement
Reasons for the growth
Since the beginning of 2015, economic indicators have been positive, signalling an improving economy, which has led to growing demand for credit by businesses as well as individuals. These factors along with historically low interest rates have promoted the growth of credit in the United States.
One of the primary factors behind the Federal Reserve's quantitative easing (or QE) measures was to bring down interest rates in order to kickstart economic growth by encouraging investment from individuals and businesses. This enabled banks to make available loans at cheaper rates, which encouraged investors to take on fresh loans. The relationship between investment and demand is straightforward. Investments grow through the availability of cheap credit, which in turn leads to higher demand for products and services.
ETF exposure
Banks form ~48% of the Financial Select Sector SPDR ETF (XLF) portfolio. Out of these, Wells Fargo (WFC) has the largest weight of 8.65%, followed by Bank of New York Mellon (BK), JP Morgan Chase (JPM), and Bank of America (BAC), which have weights of 8.47%, 8.12%, and 5.80%, respectively. All these banks have considerably high loan portfolios.
A commercial bank's total loans include mortgages, credit card loans, retail consumer loans (such as auto loans and student loans), commercial and industrial loans, and commercial real estate loans. In the upcoming parts of this series, we'll look at how different types of loans have grown since the recession.