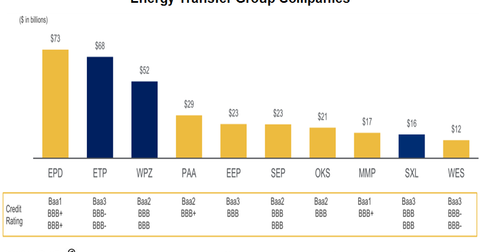 Energy Transfer–Williams Merger: Must-Know Overview
By Kurt Gallon

Updated
Energy Transfer–Williams merger
After months of pursuit, Energy Transfer Equity (ETE) finally announced a business combination transaction with Williams Companies (WMB) on September 28, 2015. The transaction is valued at $37.7 billion, including Williams' debt. This is $15 billion less than ETE's all-stock offer to Williams in June of this year. The current deal values WMB shares at $43.50.
ETE and WMB shareholders (or unitholders) seemed disappointed with the deal, considering both stocks crashed despite the $2 billion in expected EBITDA synergies highlighted in the company press release. ETE and WMB closed 12.7% and 12.1% lower, respectively, at the end of trading on the announcement day. We'll explore the reasons for this crash in a later article.
Article continues below advertisement
Overview
The combined Energy Transfer group would become the largest energy infrastructure franchise in the United States. It will also be the fifth-largest global energy company, with a combined network of more than 100,000 miles of liquids and natural gas pipelines.
After the merger, the Energy Transfer franchise would include three of the largest investment-grade MLPs, including Energy Transfer Partners (ETP), Williams Partners (WPZ), and Sunoco Logistics (SXL). While the credit profiles of these MLPs are expected to remain stable, ETE's credit profile is expected to improve from this credit enhancement. ETP, WPZ, SXL, and ETE are among the 23 holdings of the Global X MLP ETF (MLPA). Together, they account for 24.66% of the ETF.
Energy Transfer–Williams merger terms
According to the transaction terms, a newly formed affiliate of ETE, Energy Transfer Corporation (or ETC), will acquire all the outstanding shares of WMB and would survive the merger. In exchange, WMB shareholders will have a right to receive ETC's common shares and/or cash. The cash component is subject to proration. We'll discuss this in more detail in the next article.
ETC common shares would be publicly traded on the NYSE and would be taxed as a corporation for federal tax purposes. The holder of ETC shares would receive an IRS Form 1099, rather than a Schedule K-1, as required for MLPs.
Energy Transfer–Williams merger rationale
Amid a slowdown in the midstream sector due to the current low energy price environment, companies are looking for opportunities to grow and diversify their infrastructure assets through organic projects and acquisitions.
A similar example is the MarkWest Energy Partners (MWE)–MPLX LP (MPLX) merger announced in July this year. For more details, please read Key for Investors: Analyzing the MarkWest-MPLX Merger.