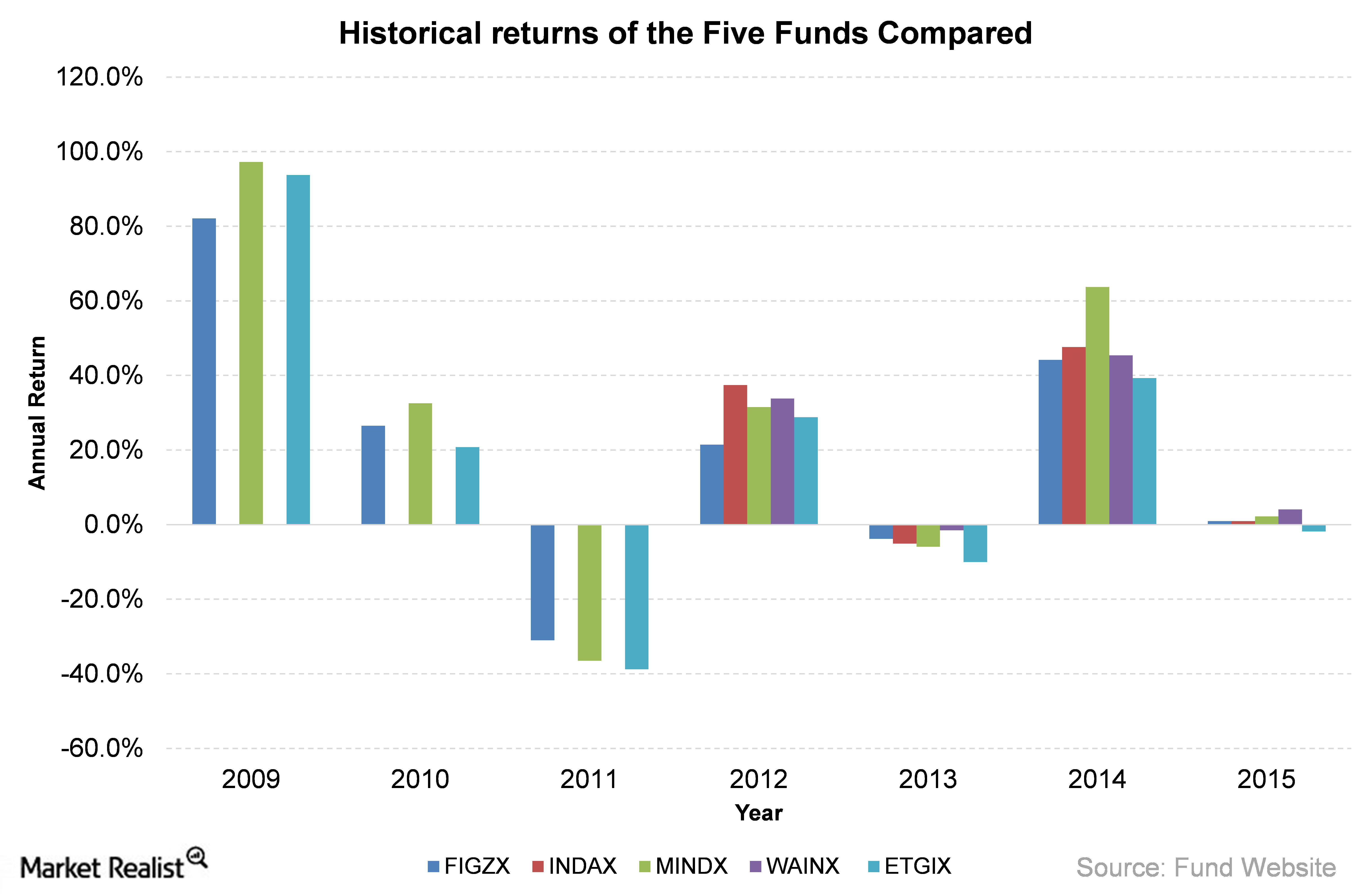 Analyzing the Historical Returns of 5 India-Focused Funds
By Pete Raine

Nov. 20 2020, Updated 11:39 a.m. ET
Returns are comparable
In this part of the series, we will compare the historical returns of the ALPS Kotak India Growth Fund (INDAX), the Matthews India Fund (MINDX), the Wasatch Emerging India Fund (WAINX), the Eaton Vance Greater India Fund Class A (ETGIX), and the Franklin India Growth Fund (FIGZX). We will compare the annual returns of the funds since 2009 until September 2015. The chart below gives a comparative picture of the returns of the fund for the last six years. The INDAX and the WAINX both began in 2011.
Article continues below advertisement
The above chart compares the annual returns of the respective year. In the following graph, we have compared the average annual returns of the five funds. For the current year, WAINX has given the highest returns among the five funds. For the one-year period, WAINX has returned 12.5%. On a YTD (year-to-date) basis, as of September 30, 2015, WAINX has returned 4.1%. However, MINDX remains the leader in terms of the returns since inception. Since its inception on October 31, 2005, the MINDX has returned 12.7%.
Within the last six years, 2009 was the best year in terms of returns for all three funds in existence then. Meanwhile, 2011 was the worst for all the funds. Financials and Information Technology sectors are the key sectors for all five funds. Infosys (INFY) and Wipro Technologies (WIT) are major Indian companies in the information technology domain. Meanwhile, ICICI Bank (IBN) is the largest private sector bank in India.
For more details on mutual funds, please visit our Mutual Funds page.