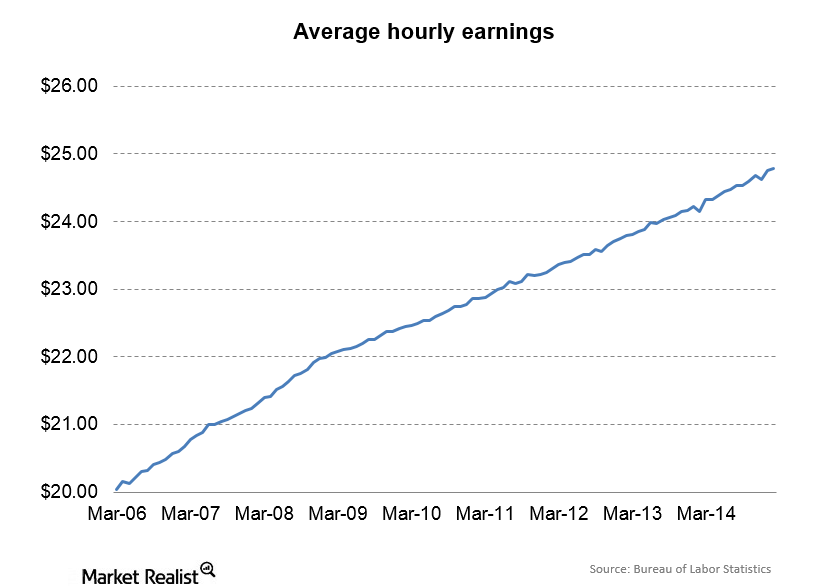 Average hourly earnings tick up along with inflation to $24.78
By Brent Nyitray, CFA, MBA

Nov. 20 2020, Updated 2:20 p.m. ET
Employment and wages are most important 
Aside from employment, wages are the most important indicator of economic well-being.
Despite falling unemployment, one of the conundrums of the current labor market is flat real, or inflation-adjusted, wages. Over the past decade, wages have more or less kept pace with inflation, but they haven't increased.
In fact, much of the increase in consumption during this period is due to asset price inflation, not wage inflation. Instead of getting a big raise, people took out a home equity line of credit and used that to fund consumption. That approach worked as long as house prices kept rising. But since the bubble burst, wages have had to fund consumption, and wages have been more or less flat. Note in the above chart how the slope of the line changes with the Great Recession in early 2009.
Article continues below advertisement
Highlights of the report
Average hourly earnings increased 0.1% month-over-month and 2.0% year-over-year to $24.78. Average weekly hours were flat at 34.6.
Implications for mortgage REITs
Wage inflation is probably necessary if we are to see actual inflation. Commodity price inflation in the context of flat wages is recessionary. Remember that, when you're discussing whether wage increases are inflationary, you have to take into account productivity, which has averaged about 2.0% per year since the 1980s. So to get wage inflation higher than the Fed's 2% target, we need to see something like 4% wage inflation. And we're nowhere near that number. We're starting to see the stirrings of wage hikes as Walmart (WMT) and TJX (TJX). Both companies announced wage increases.
Mortgage real estate investment trusts (or REITs) such as Annaly Capital Management (NLY), American Capital Agency (AGNC), and MFA Financial (MFA) are a ways away from having to worry about a hostile Fed. Until we start seeing wage inflation close to 4%–5%, we probably won't see anything more than a token federal funds rate hike just to get us off the zero bound.
Investors who are interested in trading the mortgage REIT sector as a whole should look at the iShares Mortgage Real Estate ETF (REM). Investors who are interested in making directional bets on interest rates should look at the iShares 20-year bond fund (TLT).