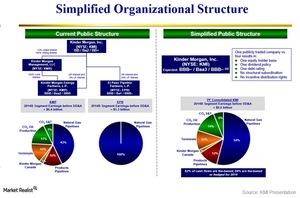 Midstream mergers and acquisitions: What are the returns?
By Alex Chamberlin

Nov. 20 2020, Updated 4:15 p.m. ET
Midstream deals
So far in this series, we've looked critically at why some midstream operators more actively engage in mergers and acquisitions at times when energy prices are falling. In this part, we'll continue to examine the reasoning behind all this deal-making and discuss what the implications may be for the midstream sector.
Article continues below advertisement
Other factors affecting merger and acquisition decisions
A number of objectives may precipitate a company's decision to pursue a merger or acquisition:
General partner relationship
General partners tend to buy out MLPs (master limited partnerships) in uncertain times. A financially strong general partner can support the MLP's distributions during challenging periods. It may also provide a visible pipeline for growth opportunities.
One of the objectives Kinder Morgan Energy (KMI) had in mind when it consolidated its MLPs, Kinder Morgan Energy Partners (KMP) and El Paso Pipelines (EPD), was to simplify its corporate structure. For more on this, read Kinder Morgan consolidates: What investors need to know.
Many of these companies are components of the Alerian MLP ETF (AMLP) and Energy Select Sector SPDR ETF (XLE). El Paso Pipelines makes up 10.3% of AMLP, and Kindred Morgan makes up 4.5% of XLE.
Growth opportunities
A midstream company can leverage its existing asset base to drive organic growth opportunities. It can either consolidate its position in a profitable business or can look to grow through the acquired company's business.
Midstream companies also rain money through initial public offerings, or IPOs, and spin-offs. Antero Resources (AR) and MPLX LP Partners (MPLX) IPOs are two such examples. For more on this topic, read An investor's guide to MPLX LP Partners.
Cash flow and refinancing
Companies with large amounts of debt may face liquidity issues—a potential liquidity squeeze if uncertainty prompts capital to flee the energy sector. Midstream operators and MLPs typically borrow large sums from creditors to grow distributions. Larger MLPs with higher cash flows can acquire such troubled companies at lower valuations.
How midstream companies are affected
Because the income of many in this sector is relatively fixed in the short term, midstream companies should continue to perform better than upstream and downstream peers. Nevertheless, a prolonged period of low oil and gas prices could severely affect new projects, slowing future distribution growth for the sector.
Many of the midstream energy companies in the US are MLPs that offer attractive distributions to unitholders. Midstream service providers most at risk currently are those with very low yields. Distribution yield is derived by dividing distributable cash flow by the MLP's unit price.
In the following part of this series, we'll look at Kinder Morgan's (KMI) acquisition of Hiland Partners.