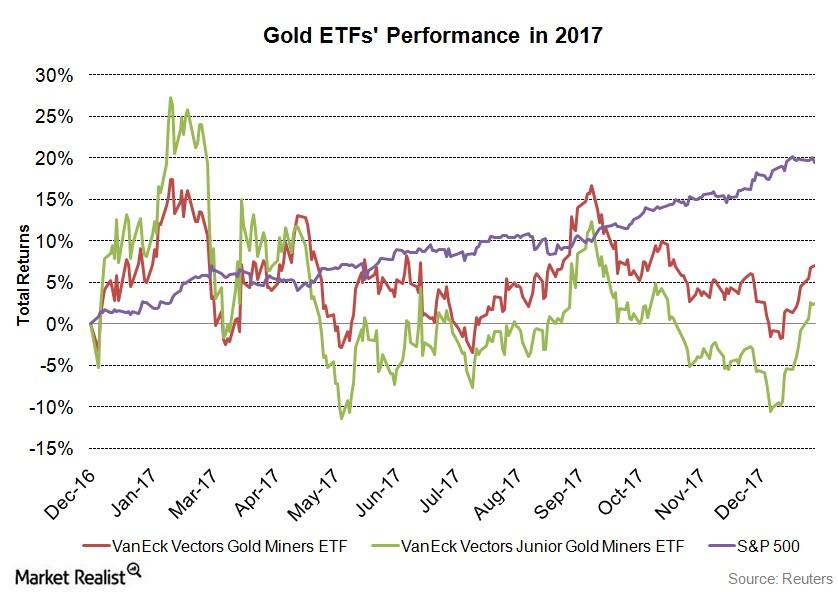 Gold Performance in 2017: Making Sense of the Numbers
By VanEck

Oct. 8 2020, Updated 1:33 p.m. ET
VanEck
Strong 2017 performance on geopolitical risk, U.S. dollar weakness, and commodities strength
Gold and gold stocks performed well in 2017. The gold price advanced $150.78 per ounce (13.1%), the GDMNTR was up 12.2%, and the MVGDXJTR gained 6.2%. These gains were impressive for a market in which investors generally showed little interest in gold while being preoccupied with new records in the stock market, bitcoin, and ancient art. Gold also did not receive much help from the physical markets, as Indian demand remained near the lows of 2016 and China's central bank refrained from purchasing gold. The resilience in the price of gold came from a global sense of geopolitical risk and uncertainty, overall strength in commodities, and unexpected weakness in the U.S. dollar. Gold stocks typically outperform gold bullion in a positive gold market. However, this year was one of mean reversion after a strong 2016 (GDMNTR up 55%), along with a lack of sizzle that investors are seeing elsewhere. Healthy earnings and increased guidance among gold companies were not enough to capture much investor interest in 2017.
Article continues below advertisement
Market Realist
Gold's performance compared to the stock market
Gold (GLD)(GLDX) has always been considered a safe-haven asset, offering investors diversification benefits. This unique asset gives investors a chance to hedge and earn positive returns. From 2000 through 2015, gold offered annualized returns of 8.5%, outperforming the US stock market (SPY)(SPX-Index), which returned 4.1%.
Even during the S&P drawdown years[1.Drawdown years were 2000, 2001, 2002, and 2008, when the S&P 500 recorded negative performance.] with negative returns of 20%, gold's average annual returns were 6.7%, as the chart above shows.
How did gold do in 2017?
As you saw in the chart in Part 1 of this series, gold was among the commodities with positive returns last year. Driven by strength in commodity prices, the World Bank's Precious Metals Price Index gained 1% in Q3 2017. As per the World Bank's October Commodities Market Outlook report, gold increased 2% in Q3 2017, led by a weak dollar and geopolitical tensions between the United States and North Korea, which spur investment demand for gold.
Gold receives the most demand from the jewelry industry, mainly in India and China. However, demand lowered in the second half of the year from India after Prime Minister Narendra Modi's demonetization reform led to a cash crunch. Jewelry demand from China also declined in the second half of the year, owing to changes in consumer tastes. Gold had a weak beginning in December, but it recovered to close the year at over $1,300 per ounce.
The chart above shows the performance of the VanEck Vectors Gold Miners ETF (GDX), which tracks the NYSE Arca Gold Miners Index, and the VanEck Vectors Junior Gold Miners ETF (GDXJ), which tracks the MVIS Junior Gold Miners Index.
In the next two parts of this series, we'll discuss what effect tax reforms could have on the US economy and precious metals like gold.