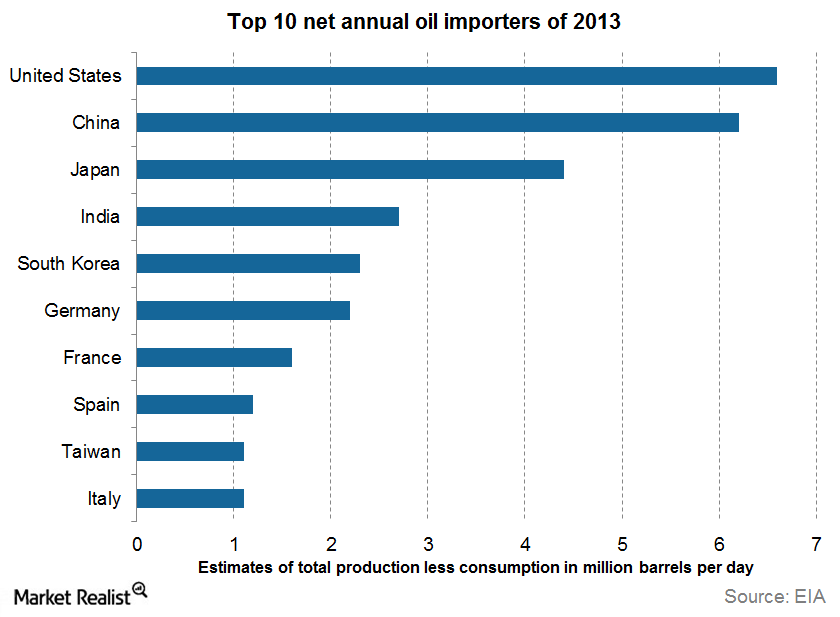 Who Are The Lower Oil Price Winners?
By Jeffrey Rosenberg

Dec. 4 2020, Updated 10:53 a.m. ET
On net, the winners from lower oil prices outweigh the losers. In particular, the largest beneficiaries to growth are from consumption, as lower gas prices free up more disposable income for, say, holiday shopping. With a $30 drop in oil prices since August, this would add an estimated 0.2% to 0.5% to GDP from personal consumption. The economic impact will be felt most by the lowest income households where the additional income will have a disproportionate impact.
Market Realist – Lower oil price winners
Article continues below advertisement
Net oil importing countries – Net oil importing countries are definitely winners thanks to the lower oil prices. The top ten net annual oil importing nations of 2013 can be seen in the graph above. As the largest consumer of oil, the US stands to benefit from the price drop. China (FXI) and Japan (EWJ), both net importers, are likely to benefit as well. India (EPI), which imports more than 80% of the oil it consumes, could well prove to be the biggest gainer. Not only would the drop in oil prices help improve its balance of payments situation, it would also help bring down its usually high inflation levels.
Consumer spending – For most consumers, paying less at the pump is akin to a tax cut because the savings on gas can be used for spending elsewhere. The drop in oil prices has been followed by a drop in gasoline prices of almost 30%, as the graph above shows. According to AAA, the average price per gallon of gasoline in the United States has plunged to $2.60, its lowest level since 2009. AAA also estimates that US consumer savings from the drop amounts to approximately $375 million per day. The drop in gasoline prices is likely to boost consumer discretionary spending (XLY) and help retail sales.
Airlines – Cheaper oil prices are helping airline companies save on operating costs. According to estimates by Barclays, the industry could save up to the tune of $10 billion in fuel costs, making airlines lower oil price winners. According to the International Transport Association, a fall of $1 in jet fuel price per barrel could mean an additional $1.7 billion in industry profits. Airline stocks have been soaring these past few months. The biggest airline stock gainers have been JetBlue (JBLU), up 73% year-to-date. Delta Airlines (DAL) is up 74% year-to-date and United Continental (UAL) is up 69% year-to-date.
Agriculture – Since agriculture is energy intensive, farmers are also the winners from lower oil prices. According to John Baffes of the World Bank, to produce $1 worth of farm output requires five times the energy required to produce $1 worth of manufactured goods. This makes agriculture-based industries major beneficiaries of the drop in the price of oil.
In the next part of the series, we'll find out who's losing because of the falling oil prices.