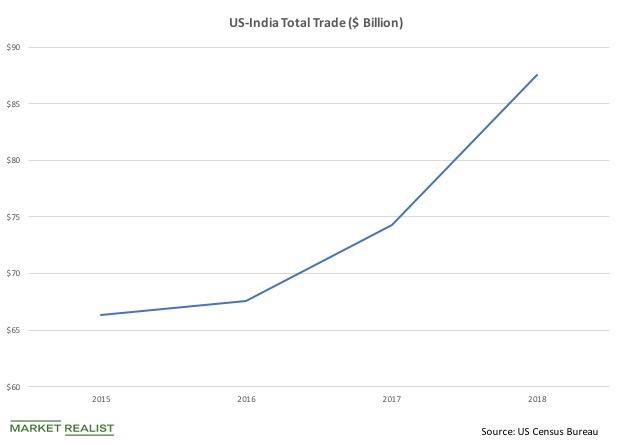 Why India and US Are Slated to Come Even Closer in Modi Term 2.0
By Mike Sonnenberg

May. 29 2019, Published 3:26 p.m. ET
A long journey
From having been barred from entering the US before being the prime minister to visiting the US five times in the last five years, Modi has come a long way in terms of his relationship with the US. During his first term, India and the US have increased cooperation and trade and have come together to counter China's rising influence in the region. In Modi's second term, we expect the overall US-India relationship to deepen further.
Article continues below advertisement
The bottlenecks
Trump and Modi are both nationalists. Both want to create jobs and both want to make their countries great again. Although valuable, the relationship is not without its share of bickering. Trump's focus on getting companies to hire Americans has created an environment of uncertainty for Indian technology companies like Infosys (INFY) and Wipro (WIT). India's move to regulate e-commerce and push more local products has resulted in uncertainty for Amazon (AMZN) and Walmart-owned (WMT) Flipkart. US sanctions on Iran have deprived India of a cheaper source of crude oil. The possibility of US sanctions on India for Russian defense purchases threatens to break India's partnership equations.
The road ahead
In spite of these bottlenecks, the India-US partnership has a great potential to counter not just China's growing influence but key issues like climate change. Under Modi, India has been moving away from its traditional non-alignment approach to forge partnerships to counter China. With the crack widening between the US and China amid the ongoing trade war, strengthening ties with the US further will very likely be Modi's strategy in his second term.