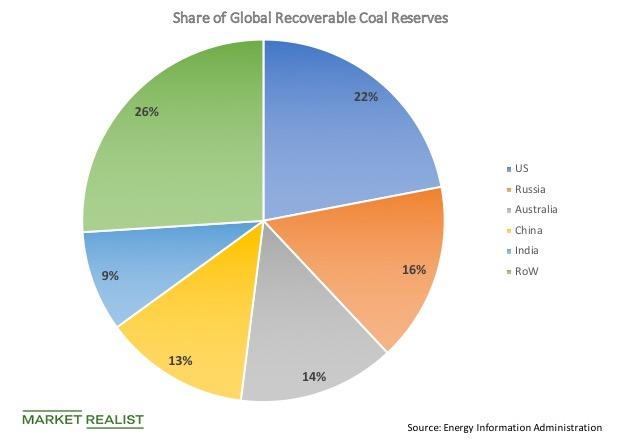 How a Trade War Will Affect Environmental Policies, Cooperation
By Mike Sonnenberg

May. 17 2019, Published 3:34 p.m. ET
Trade war and policies
The trade war could affect how the United States (SPY), China (FXI), and other countries approach their environment-related policies.
How the world will tackle environmental issues collectively also depends on how long the trade war lasts.
Article continues below advertisement
Fuel policies
At over 250 billion tons, the United States has the biggest proven coal reserves in the world. With 147 billion tons of reserves, China ranks fourth in the world. The prolonged trade war between these two countries will most likely result in a global slowdown and job losses. Since coal was once a large employment generator (and still is, to some extent), politicians may make it a point to increase coal production to ramp up employment. China employed a whopping 5.2 million people in coal mining at its peak in December 2013. The United States employed 174,000 people in coal mining at its peak. Any increase in coal mining activity is negative for the environment.
Both countries import oil and natural gas from other countries. While the United States has become a net exporter of natural gas thanks to the shale revolution, it still imports natural gas from Canada. During times of stress, governments might be tempted to tap into their coal reserves to keep their trade balances in check—again, a negative for the environment.
Coal is a cheap source of energy for electricity generation. With solar panels becoming more expensive due to tariffs, coal (KOL) might be back in policymakers' favor again. In fact, President Donald Trump is a proponent of coal.
International policies
With tariffs in place and protectionism rising around the world, the trade war could make it difficult for countries to build a consensus around international agreements such as the Paris Agreement, which President Trump has already exited.