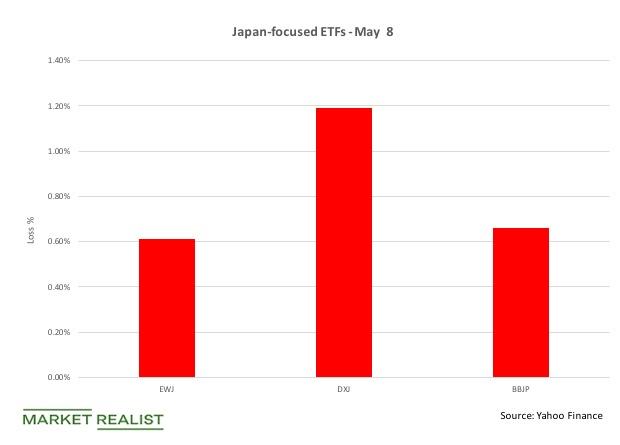 Hang Seng Falls 2.4%, KOSPI over 3%, NIKKEI ~1%
By Mike Sonnenberg

Nov. 20 2020, Updated 4:46 p.m. ET
Hang Seng
Hong Kong's Hang Seng Index, which generally follows the mainland's lead, closed 2.39% lower at 28,311,07 on May 9.
On May 8, the iShares MSCI Hong Kong ETF (EWH), which invests in Hang Seng–listed securities, dropped 35 basis points against Hang Seng's 1.23% loss. The ETF's outperformance against the index may have been a recovery from earlier selling. The Hong Kong dollar was marginally stronger than the US dollar at 5:10 AM EDT.
Article continues below advertisement
Japan
Japan's Nikkei 225 closed May 9 at a six-week low with a 0.93% loss. The Japanese yen, which is considered to be a safe-haven currency, continued to strengthen amid the uncertainty surrounding the US-China trade deal. Gold, another safe-haven asset, was up 0.29% as of 5:13 AM EDT on May 9.
The CBOE Volatility Index (VIX), which measures implied volatility in the US markets, was at its highest point in over two months this morning. VIX was up 11.9% to 21.62 at 5:00 AM EDT.
The iShares MSCI Japan ETF (EWJ) dropped 61 basis points in May 8 trading, outperforming the Nikkei 225 Index. The WisdomTree Japan Hedged Equity ETF (DXJ) fell 1.19% to close at 49.68 on May 8. The JPMorgan BetaBuilders Japan ETF (BBJP) dropped 0.66% to close at 22.43 yesterday.
South Korea
South Korea's KOSPI Composite Index was the biggest loser among the Asia-Pacific indexes. The index lost 3.04%, its biggest intraday loss in months, on May 9. The index had kept its losses limited in the last three trading sessions, during which other markets were deep in the red.
The iShares MSCI South Korea ETF (EWY) gained 0.24% on May 8 and is expected to be under heavy pressure today.