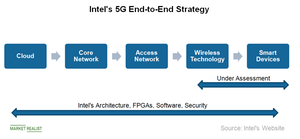 Technology Implications of Intel's 5G Decision
By Puja Tayal

Nov. 20 2020, Updated 5:32 p.m. ET
Intel's 5G decision from a technical standpoint 
Intel (INTC) decided to quit its efforts to make 5G modems for smartphones since they're not profitable enough. This decision should mean cost savings in the short term and help Intel focus on other core markets with better returns. However, this decision would reverse previous CEO Brian Krzanich's efforts in client connectivity solutions.
Article continues below advertisement
5G technology is the future of the data economy, and it will connect almost all devices to the Internet, which means the 5G chip will go into all client devices like PC, smartphone, IoT (Internet of Devices) devices, automotive, drones, and smart cameras. There will also be a 5G networking infrastructure opportunity in the cloud. In the press release, Intel's CEO Bob Swan stated that the company will assess 4G and 5G modem opportunities in PC, IoT, and other client devices but continue to invest in networking infrastructure opportunities created by 5G.
Intel's 5G decision leaves many questions unanswered
Many analysts believe exiting the 5G smartphone modem business puts the future growth of its client business at stake. All client devices will offer 5G modems in the long term. The question is how Intel will focus on other client devices by not developing 5G modem technology for smartphones. Qualcomm(QCOM) developed its 5G modem for smartphones and leveraged the technology to other applications, like the IoT and laptops.
One possibility is that Intel can completely exit the modem business and instead use Qualcomm's modems as it did with its graphics card. In 2017, Intel used Advanced Micro Devices' discrete graphics cards in its gaming laptop platform as it lacked that technology.
Commenting on Intel's 5G decision, Moor Insights & Strategy analyst Anshel Sag told ExtremeTech, "I believe that Intel is seriously considering selling the division or closing the division and selling IP (intellectual property) to Apple."
Check out all the data we've added to our quote pages. Now you can get a valuation snapshot, earnings and revenue estimates, and historical data as well as dividend info. Take a look!